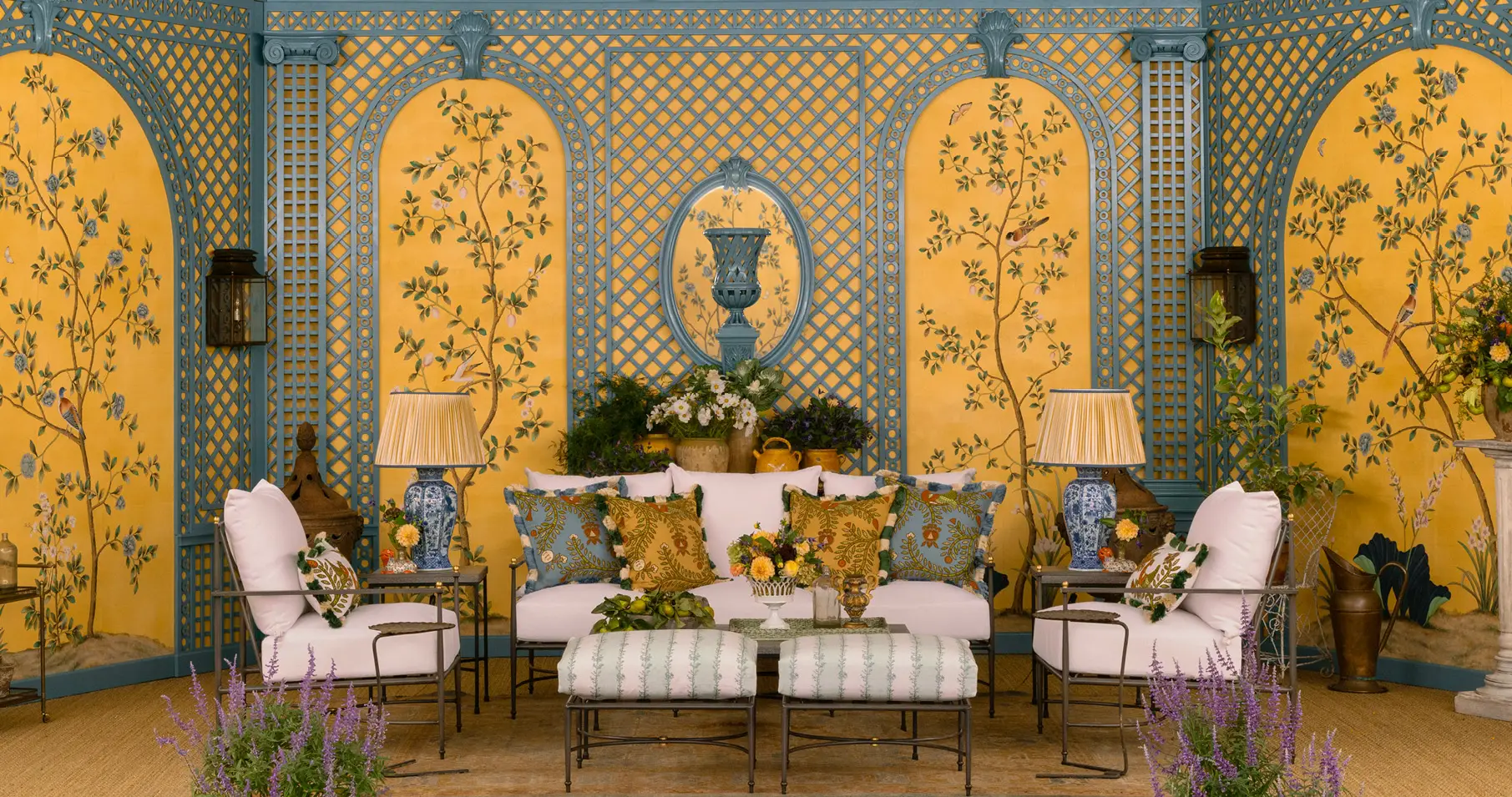 We are setting the scene for the Birmingham Botanical Garden's annual Antiques at the Gardens event, an acclaimed antiques show that brings together design and horticulture in the heart of Alabama.
Within the flower-filled gardens, a joyful world of de Gournay comes alive with airy hand-painted fabrics billowing in the breeze and hand-painted ochre chinoiserie wallpaper set against dusky blue treillage by Accents of France.
Amongst potted olive trees and late summer hydrangeas at the Birmingham Botanical Gardens, our 'Nordic Garden' wallpaper, hand-painted on Ullswater blue tea paper, is framed by a dusky blue treillage from Accents of France - an ideal backdrop for a weekend of celebrating the best of interior design and horticulture at Alabama's Antiques at the Gardens.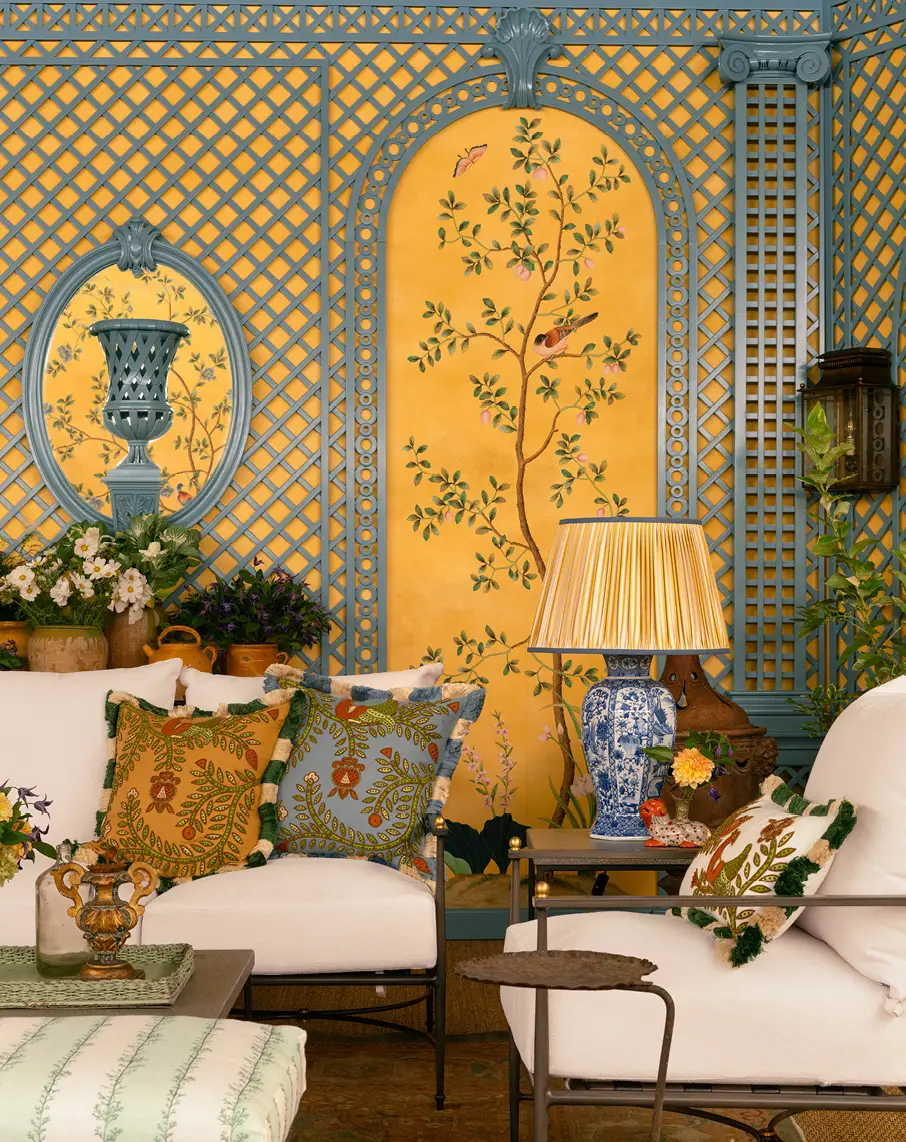 Our hand-painted 'Nordic Garden' wallpaper, also painted in a rich ochre tone, conjures up a charming conservatory scene at the event. Antique garden furniture, flower-filled pots, and vintage garden tools are surrounded by the perched birds, delicate butterflies, and simple peonies of the wallpaper.
In addition to the curated collection of antiques, our own hand-crafted Imari porcelain lamps and cushions embroidered with our 'Fyodor' design add the perfect finishing touch.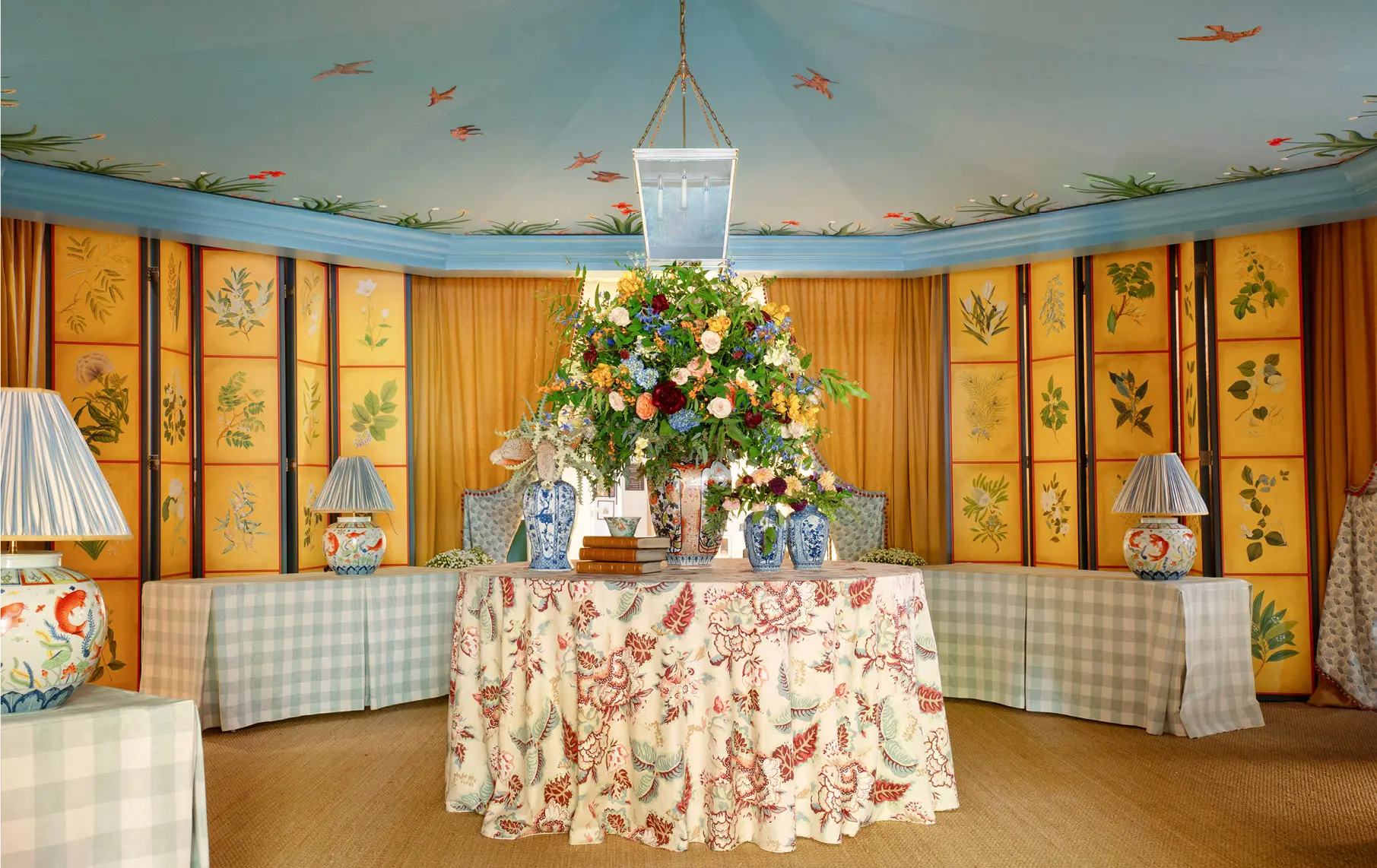 Elegantly revealed behind gently sweeping linen draperies, a tented sky blue ceiling bordered with hand-embroidered flowers and raffia birds in flight welcomes guests to the rotunda entryway of Birmingham, Alabama's Antiques in the Gardens event.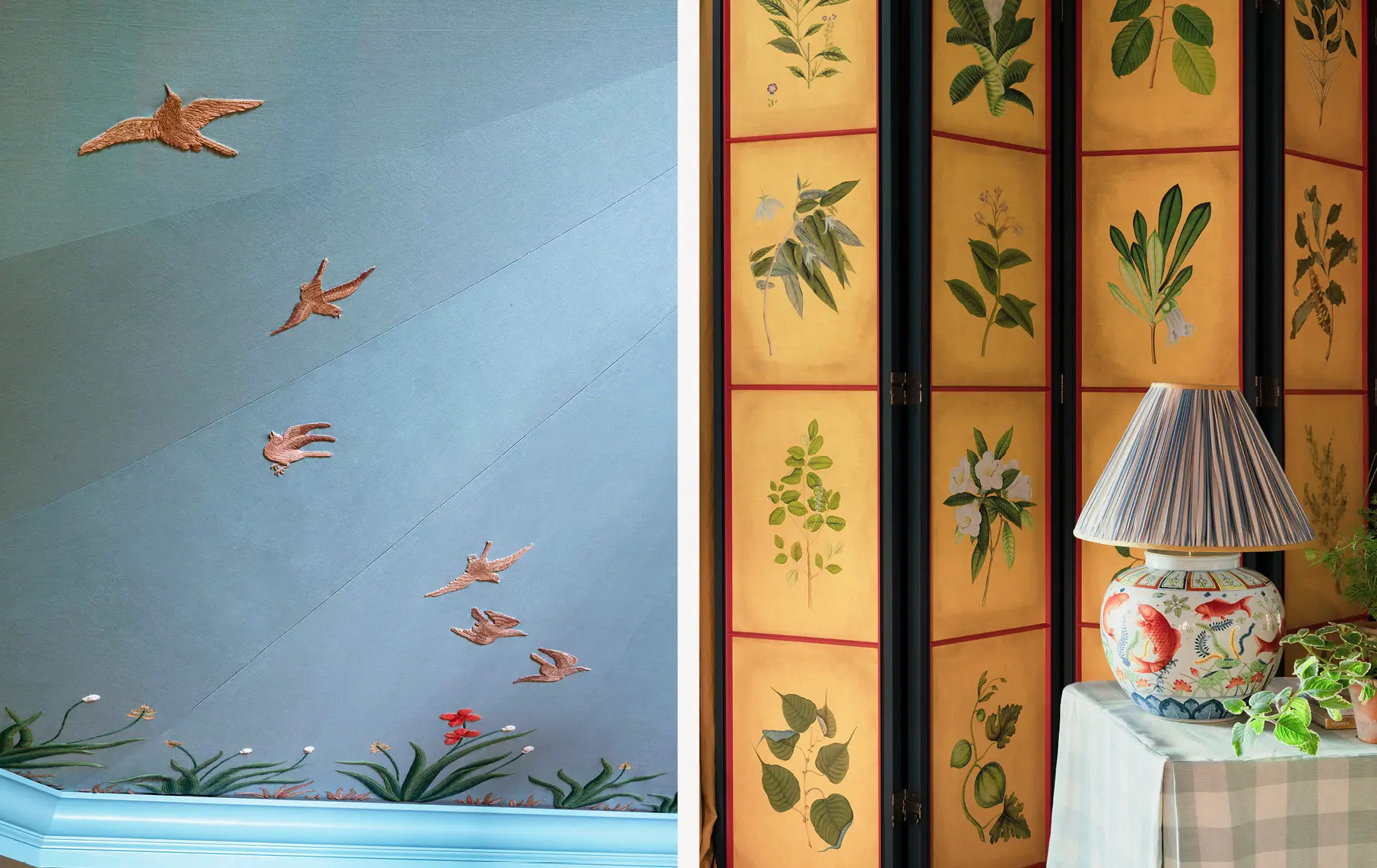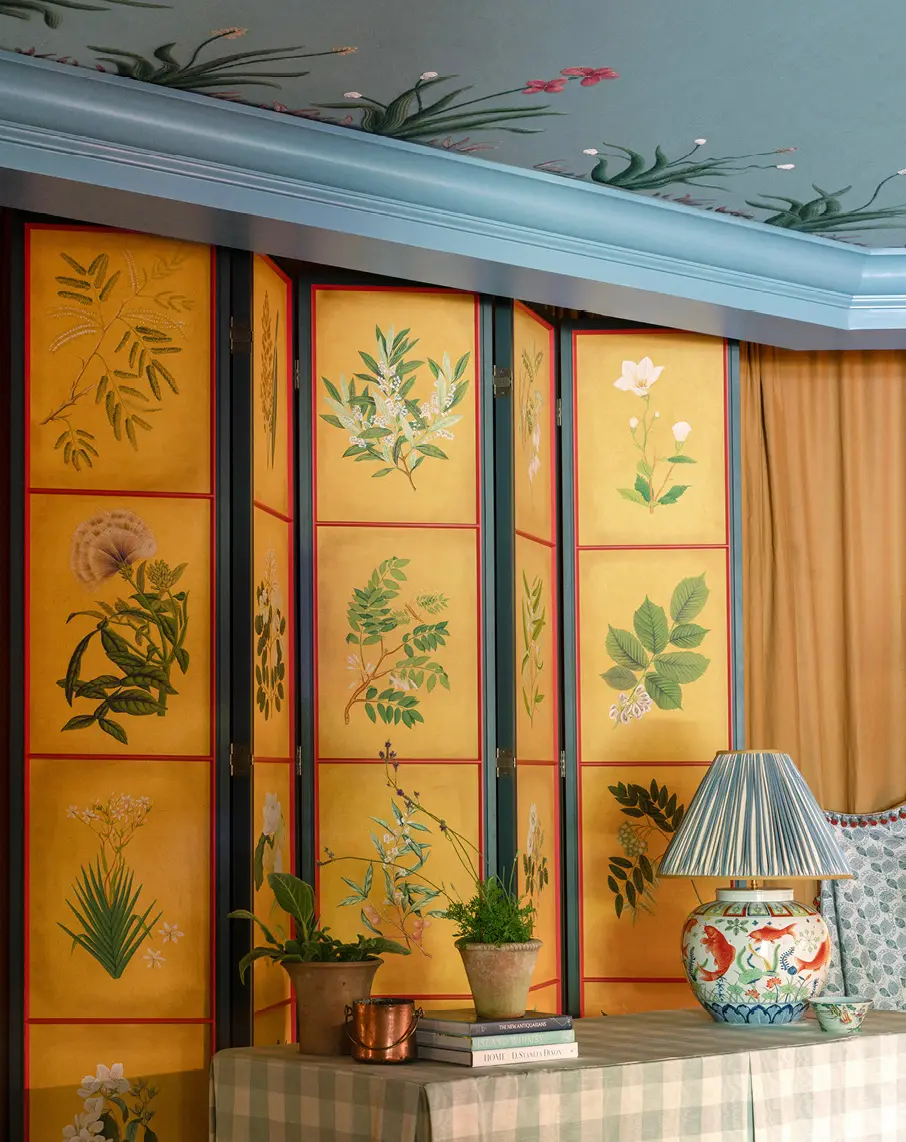 Anchoring the space are four bespoke folding screens that display large-scale illustrations inspired by the 17th century botanist Carl Linnaeus, seen here in a rich ochre colourway. On the centre table, groupings of Imari porcelain mingle with antique objects atop an exuberant Cowtan & Tout tablecloth.
Down a lush hedgerow, a secret garden unfolds at the picturesque Mountain Brook, Alabama home of designer Caroline Gidiere.
In shades of white, sage green, lavender, and lilac, floral designer Shean Strong wondrously combines tree peonies, hellebores, clematis, oak leaf hydrangea, allium, maidenhair fern, and various grasses in porcelain cachepots, bringing unexpected texture to the verdant surroundings. An evening in celebration of our new porcelain dinner service, 'Botanical Studies', an enchanting table is set awaiting guests under the warm glow of hand-painted Chinese lanterns and trailing greenbrier vine.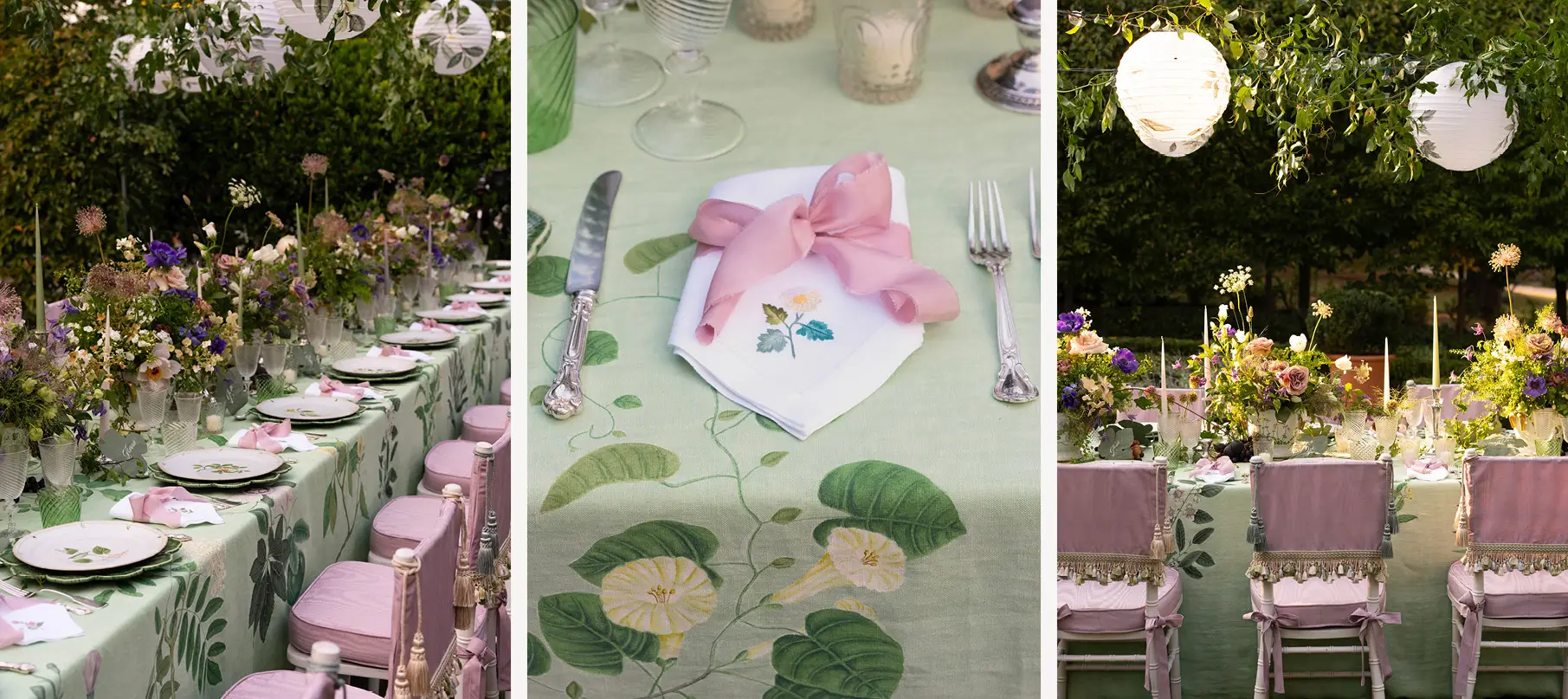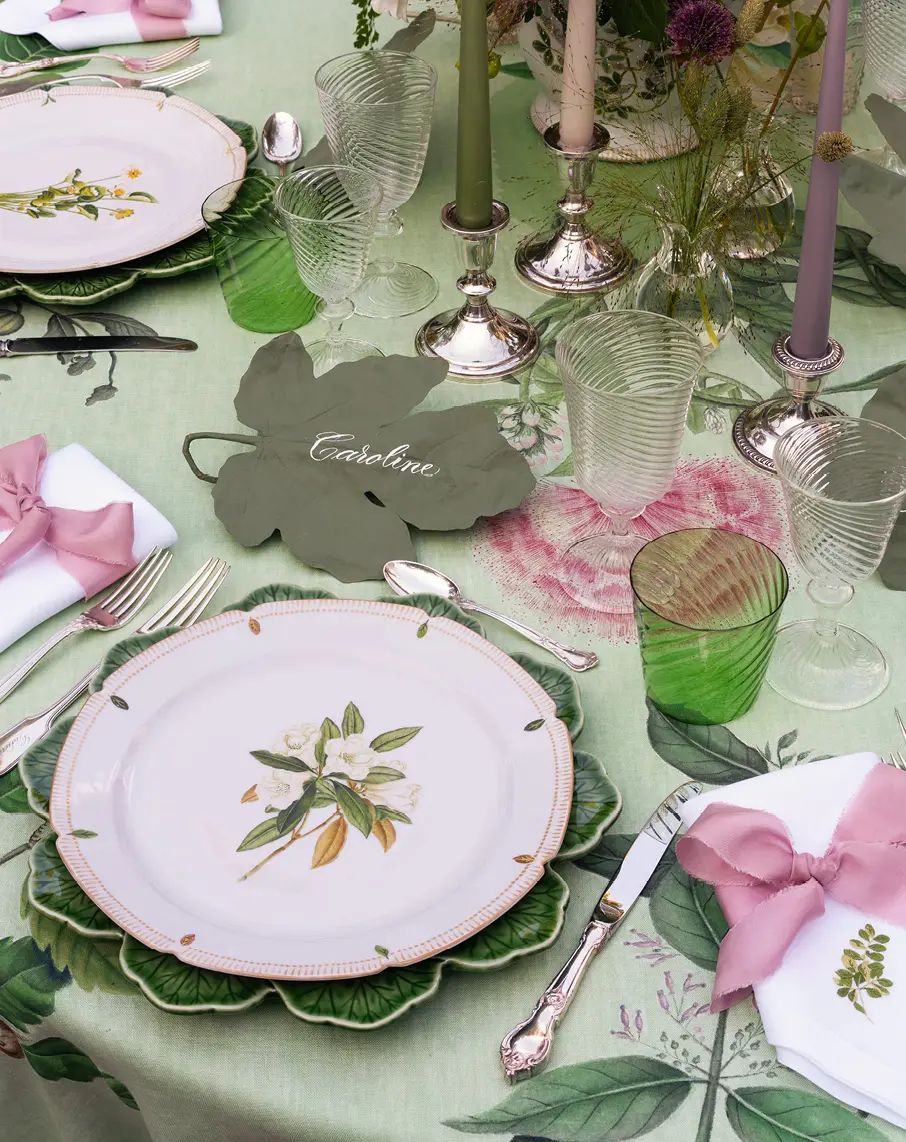 Inspired by illustrations from the 17th century, each hand-carved plate is embellished with a highly intricate, hand-painted botanical specimen, such as passion flower, heliotrope, chestnut, and orchid tree.
Hand-painted by de Gournay's growing team of artists, a fine linen tablecloth complements the botanical theme, while bespoke lilac silk moiré slipcovers featuring Samuel & Sons tassel fringe adorn each dining chair. The flowering spread continues with bespoke hand-embroidered linen dinner napkins by Julia B. and papier-mâché fig leaves by Casa Gusto hand-calligraphed as place cards by Grace Davis Hall.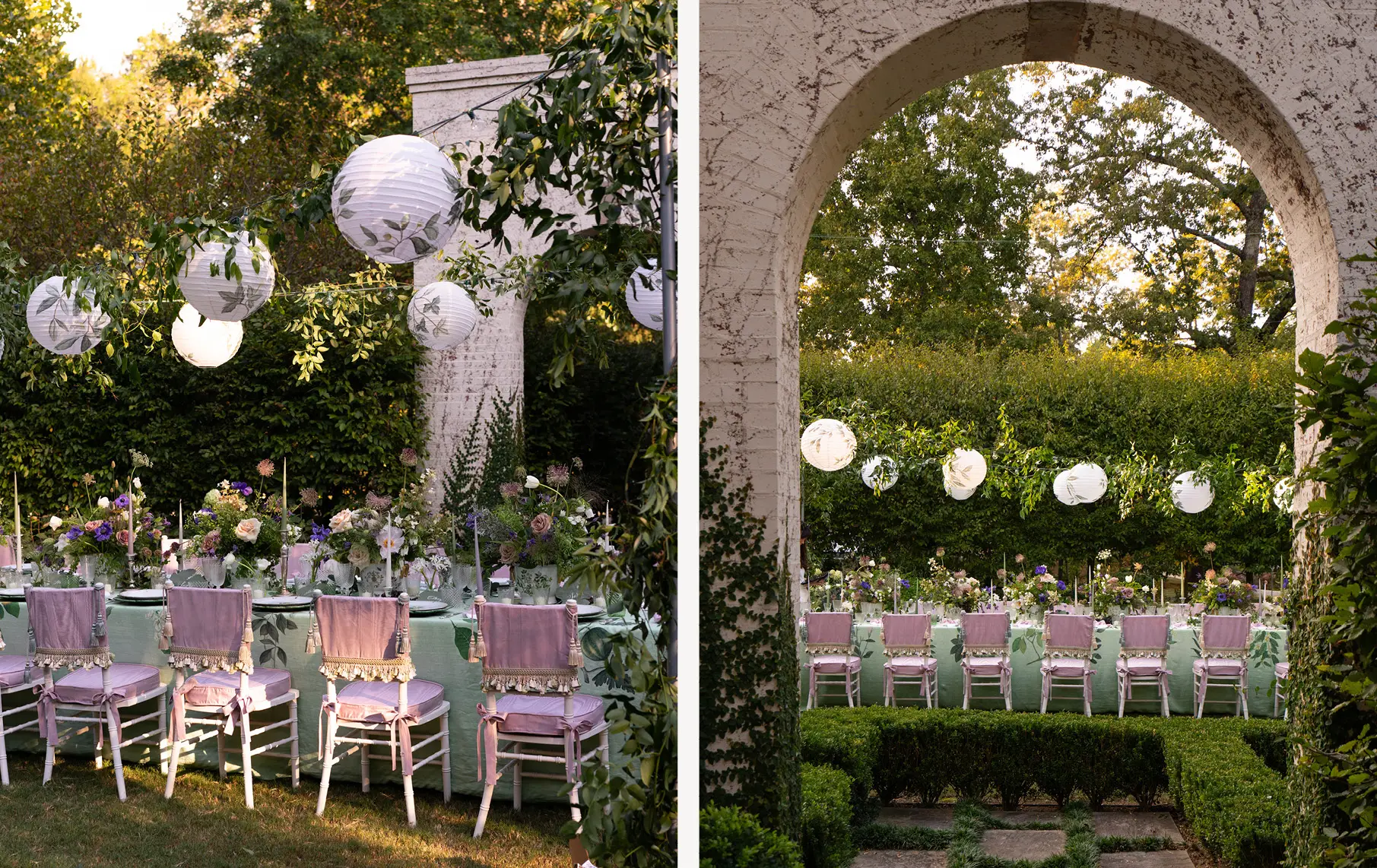 Photography and videography by Alexandra Shamis.