de Gournay's New Beirut Showroom
A longstanding centre of creative and commercial activity, de Gournay's projects in the Middle East have expanded in steady progression alongside a wave of design talent emerging from the Arab world. Commencing the third decade of the 21st century, a new standalone premises within the region promises to engage this developing creative field as de Gournay's repertoire of bespoke artistry reaches new heights. Beirut - the capital of Lebanon and one of the oldest cities in the world - continues to cultivate a rich cultural forum in keeping with its reputation as 'The Paris of the Middle East', and de Gournay is proud to unveil its latest showroom within the Achrafieh quarter: historic hub of Beirut's artistic cognoscenti.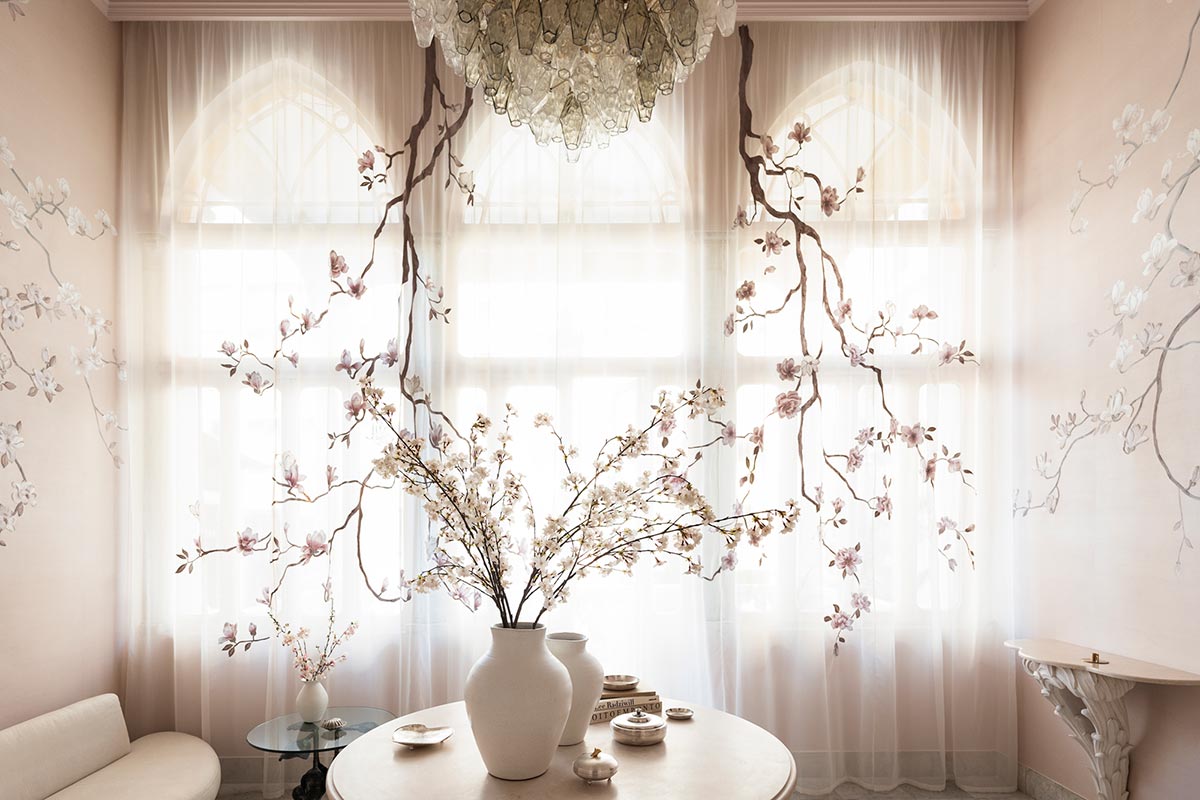 Claud Cecil Gurney comments: "I always knew I wanted to open a showroom in Beirut. It has so many different cultures in one place. It is a crossroads of Arabic, French and English - when you get a mix like that it's magical."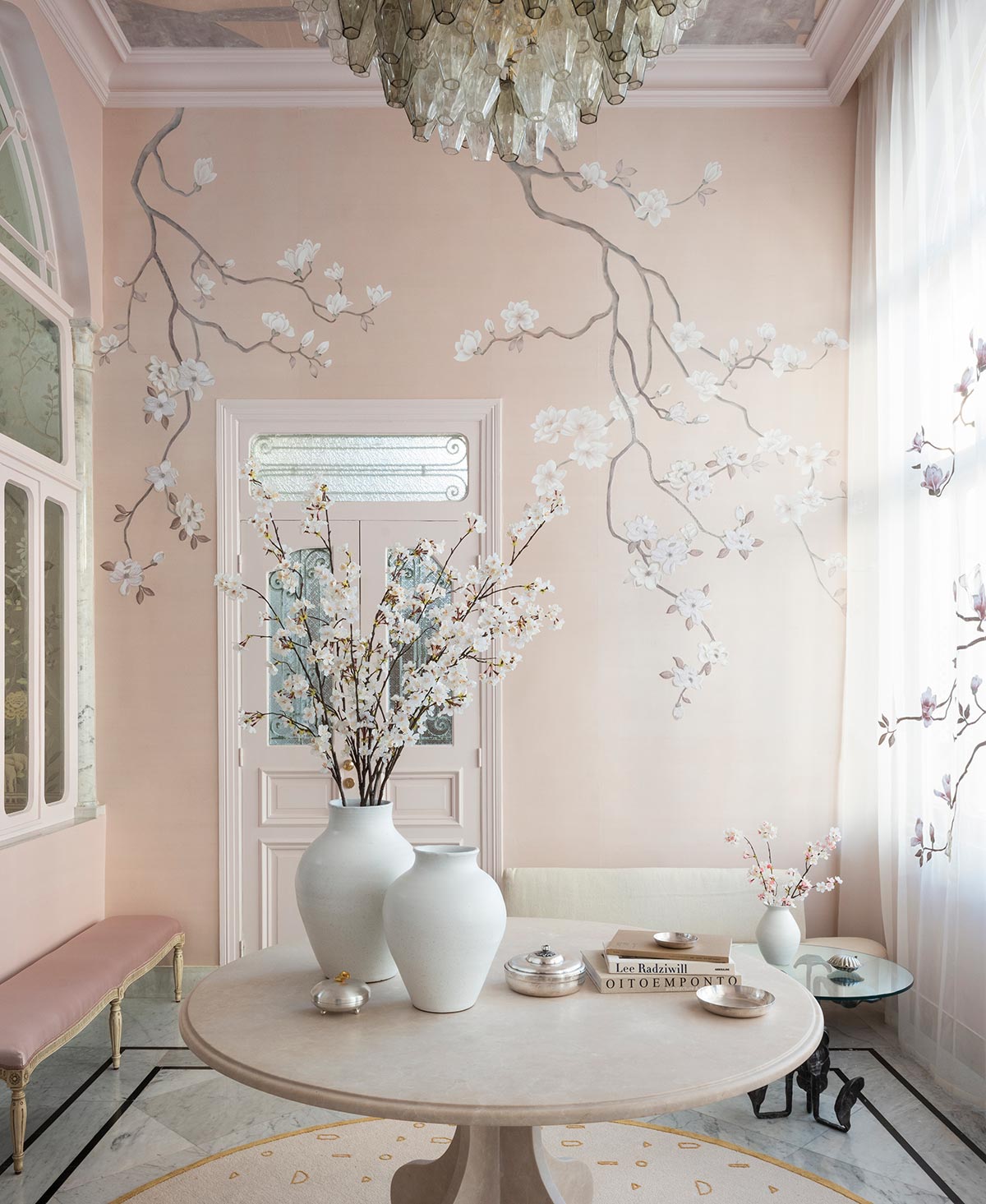 Situated within an Italianate apartment built in 1920, de Gournay's latest outpost is a breathtaking pean to the companies unrivalled expertise in artisanal techniques for interiors. Its impressive proportions - a network of high ceilinged rooms around a soaring central salon - are installed throughout with a resplendent series of hand painted wallpapers that also play host to exciting new interpretations of de Gournay's hand embroideries.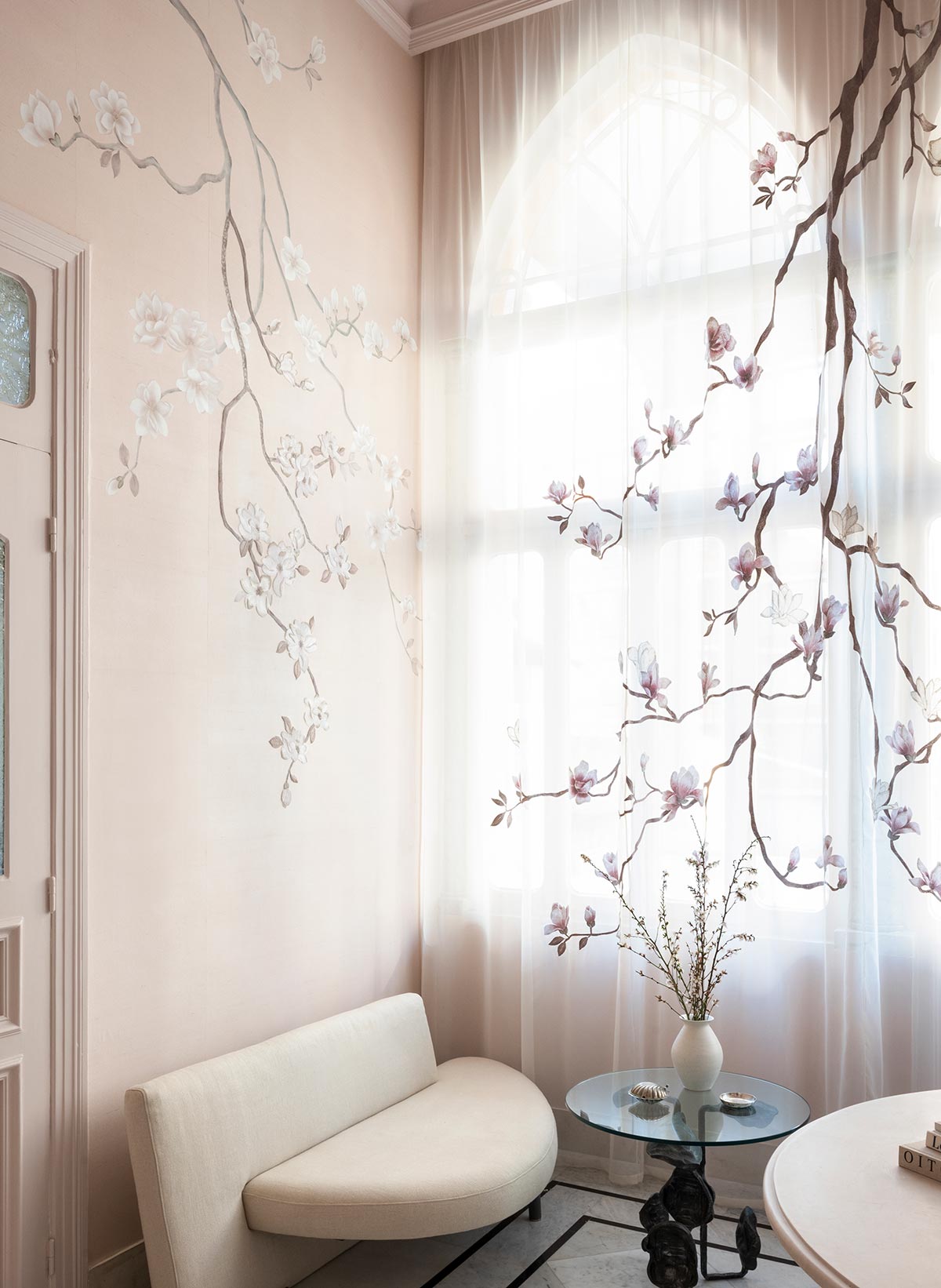 Pendulous branches of the 'Magnolia Canopy' design greet guests upon arrival - lit by windows to a terrace overlooking a true Magnolia tree planted below. Hand painted onto 'Orchid Tint' Slub Silk, its blooming flowers accented with beadwork and embroidery, the motif spans across curtains bearing the same exquisite techniques of hand craft on a fine sheer.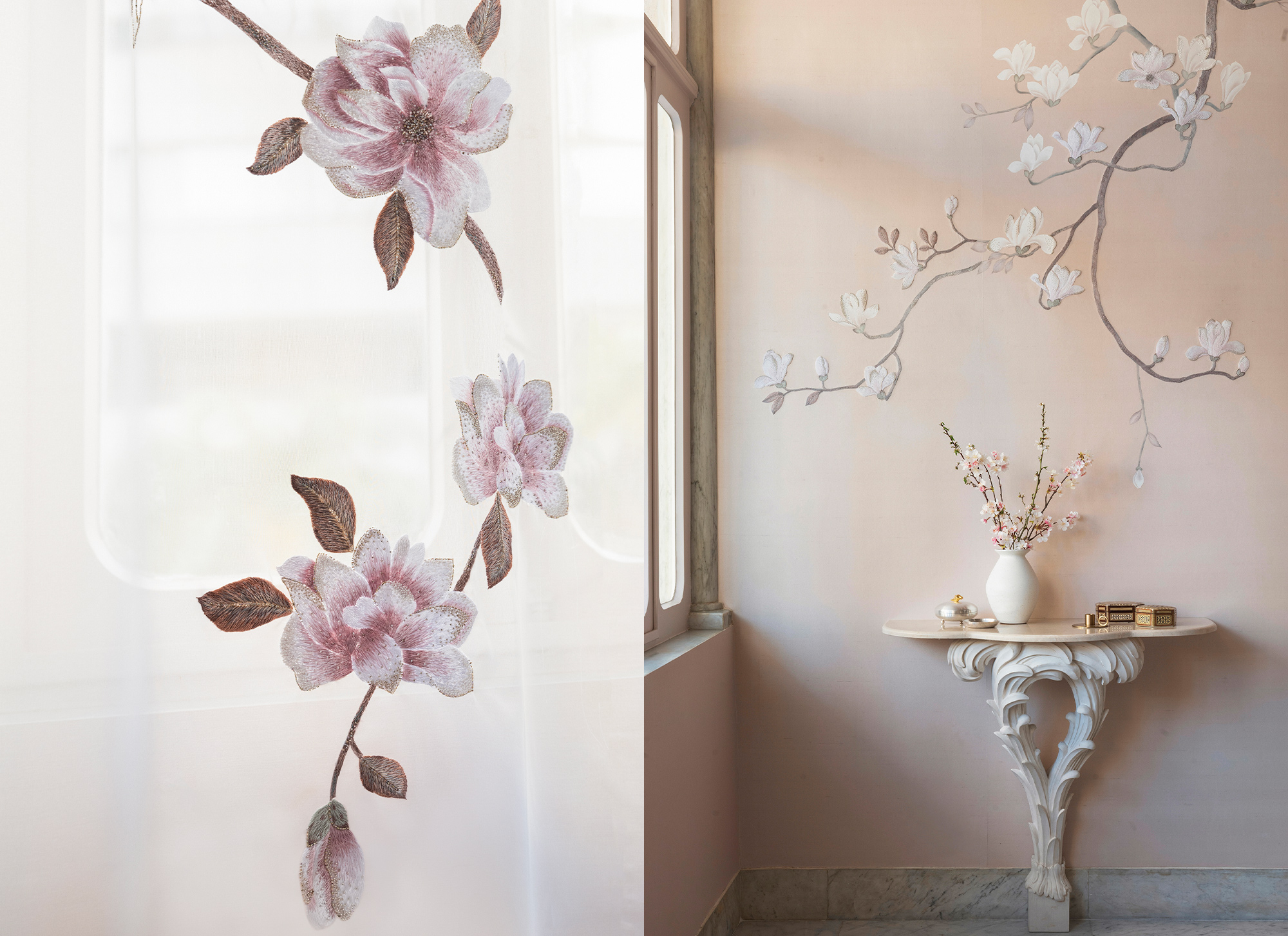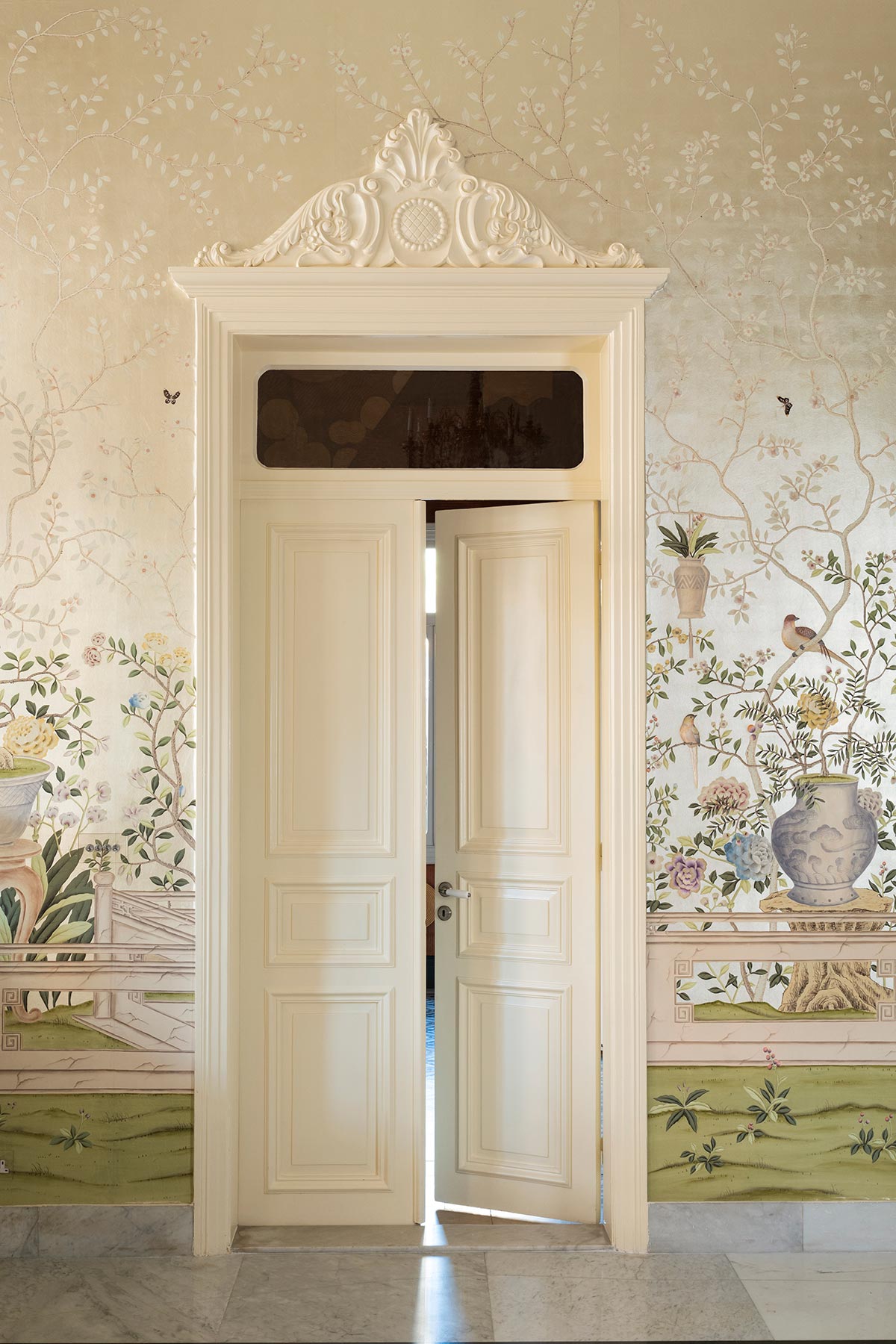 The flourishing garden of the 'Temple Newsam' design, an established favourite of de Gournay's Chinoiserie collection, fills the main interior.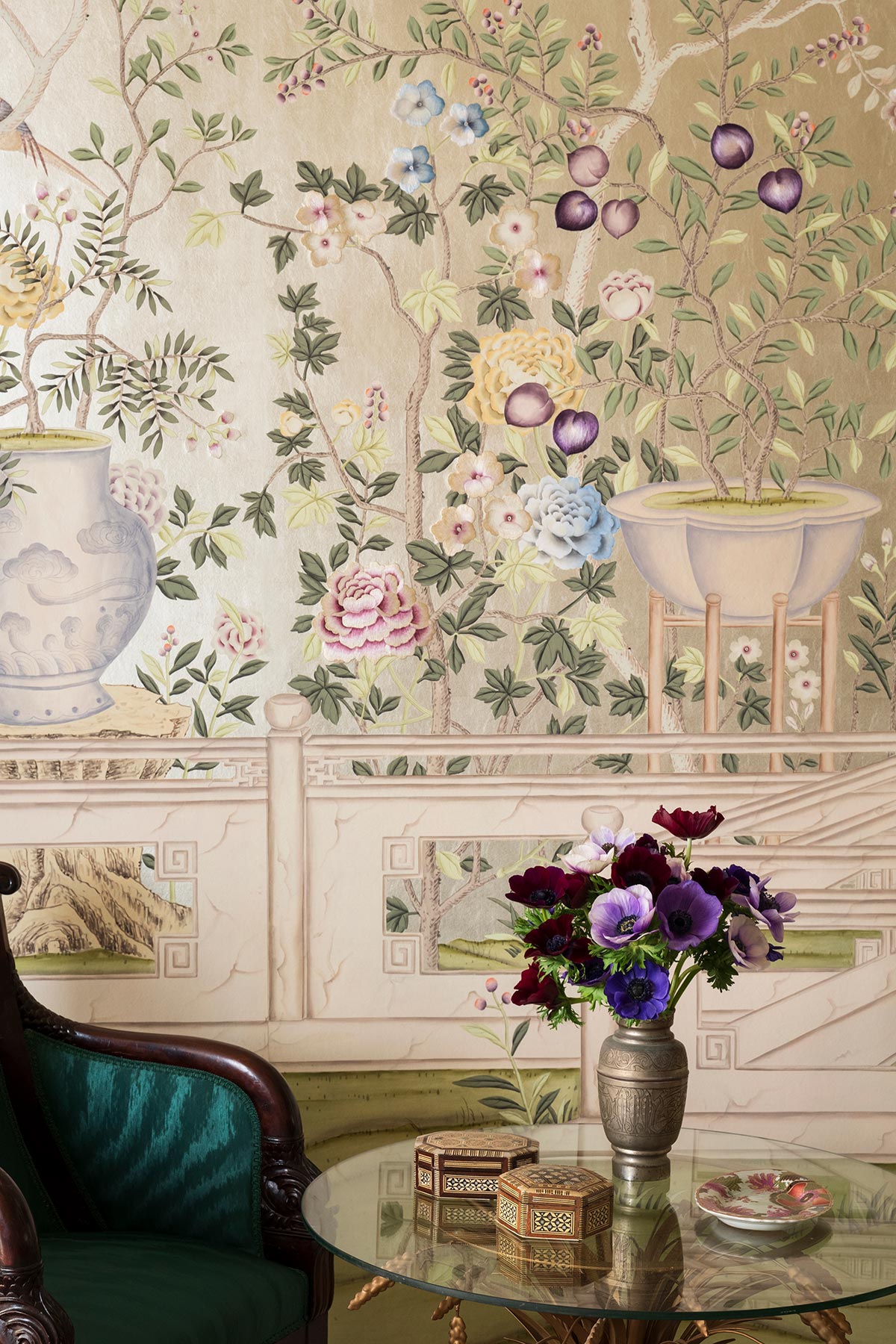 Painted by hand in a new colourway on a lustrous ground of 12 carat White Gold Gilded Paper, reflecting the ambient light of the passing day, hand embroidery further ornaments details of the scenography.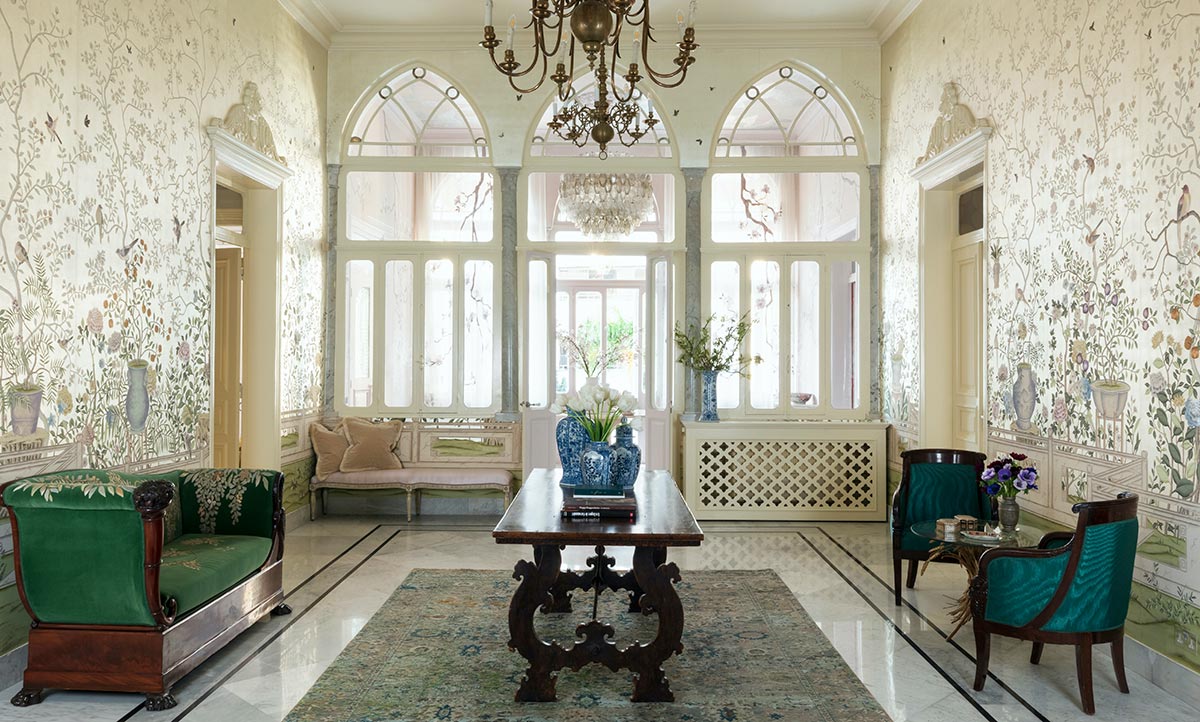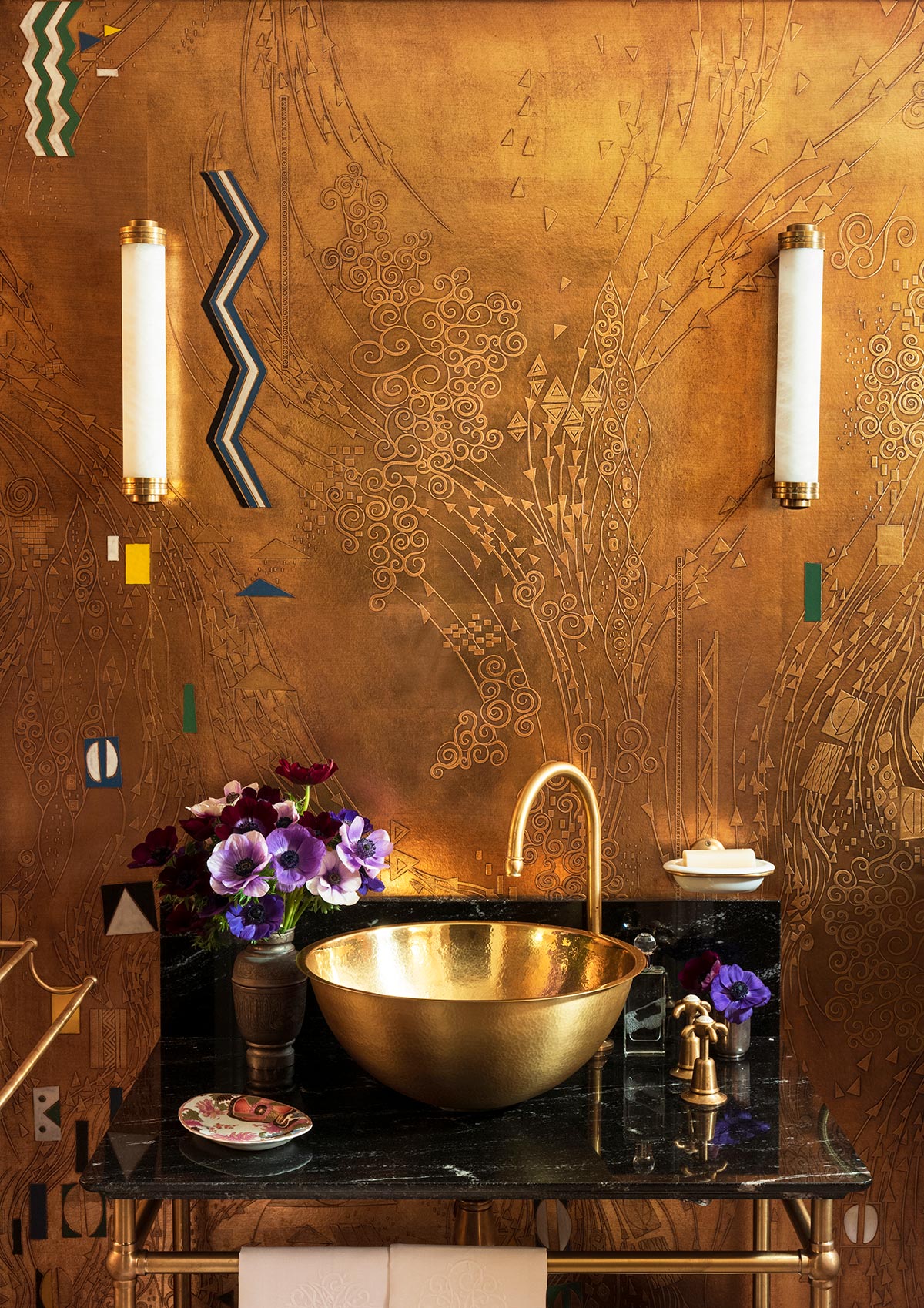 Installed for the first time, de Gournay are excited to present 'Klimt' - a new design inspired by the titular artist.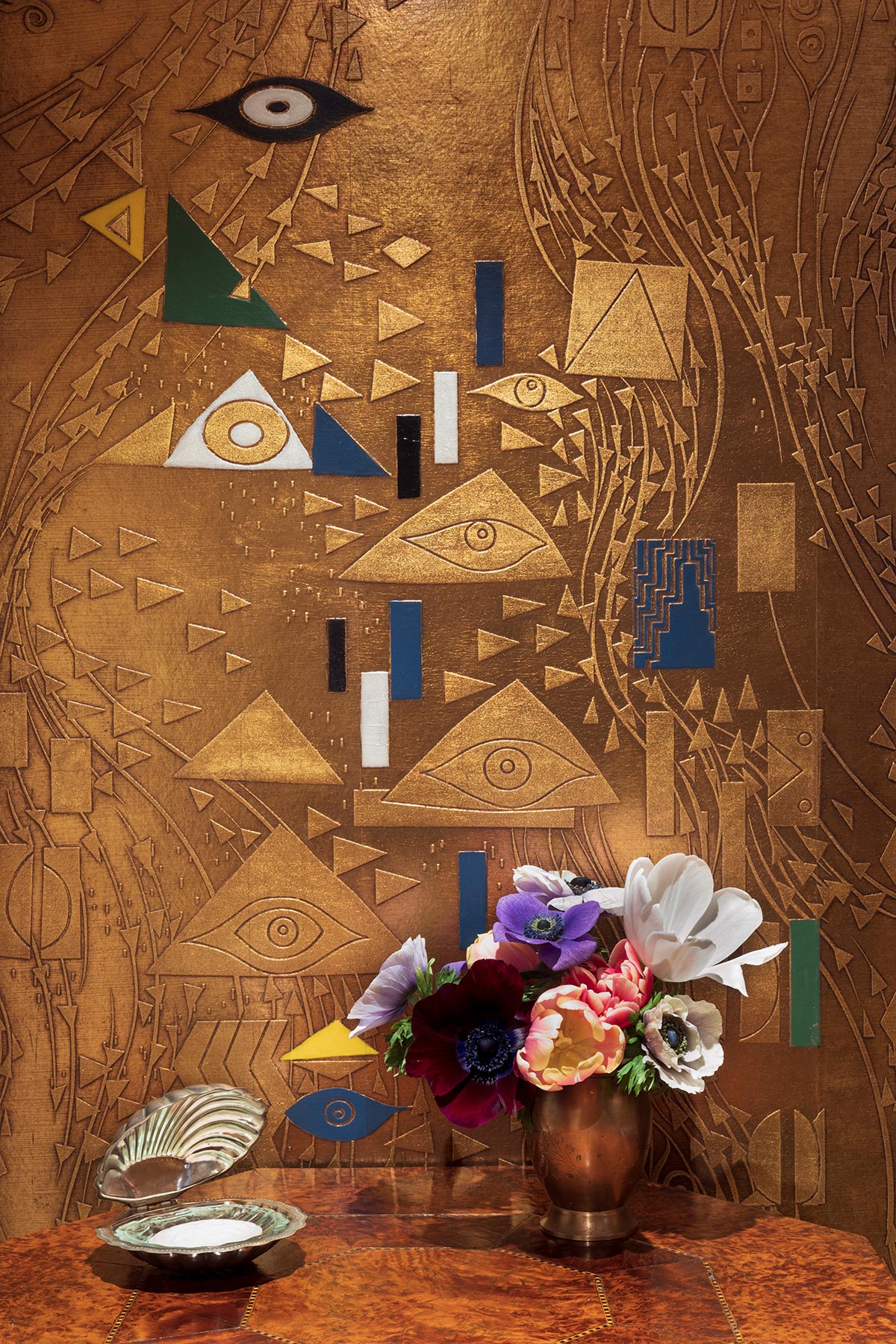 Swirling currents of iconography rendered in relief effect on Deep Rich Gold Gilded Paper reference the works of his famed 'Gold period' - interspersed with strokes of colour in the form of graphic chevrons and abstract eyes - elevating a bathroom into a setting of vivid art deco splendour, alongside elegant alabaster lighting from Collier Webb and utitlies by Catchpole & Rye.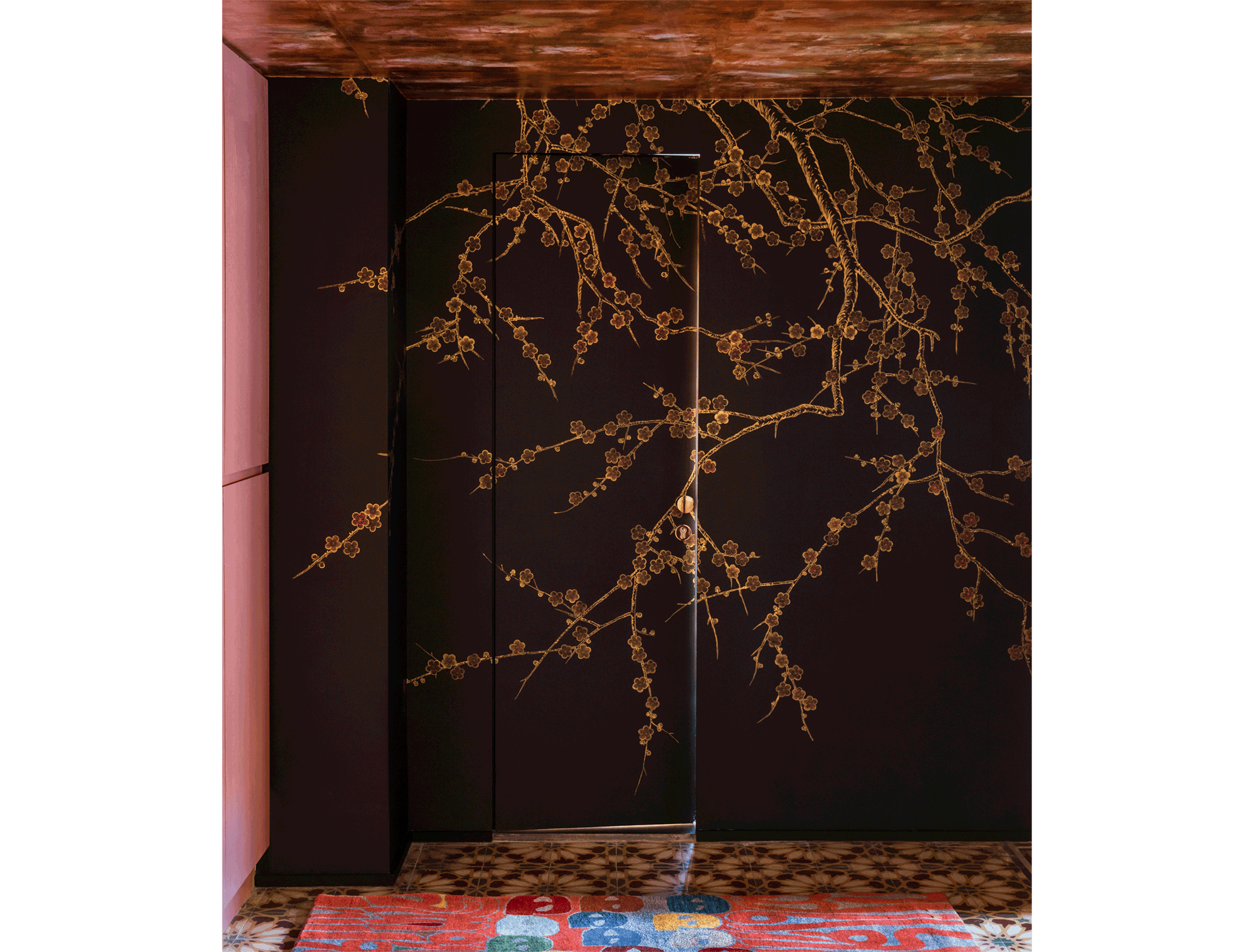 A bedroom plays host to the dense composition of the 'St. Laurent' Chinoiserie, which assumes rich depths on an antiqued Pink Xuan Paper: setting a scene suggestive more of a private residence than a commercial space - in which the softly aged quality of the wallpaper feels as thought it might have been present for hundreds of years.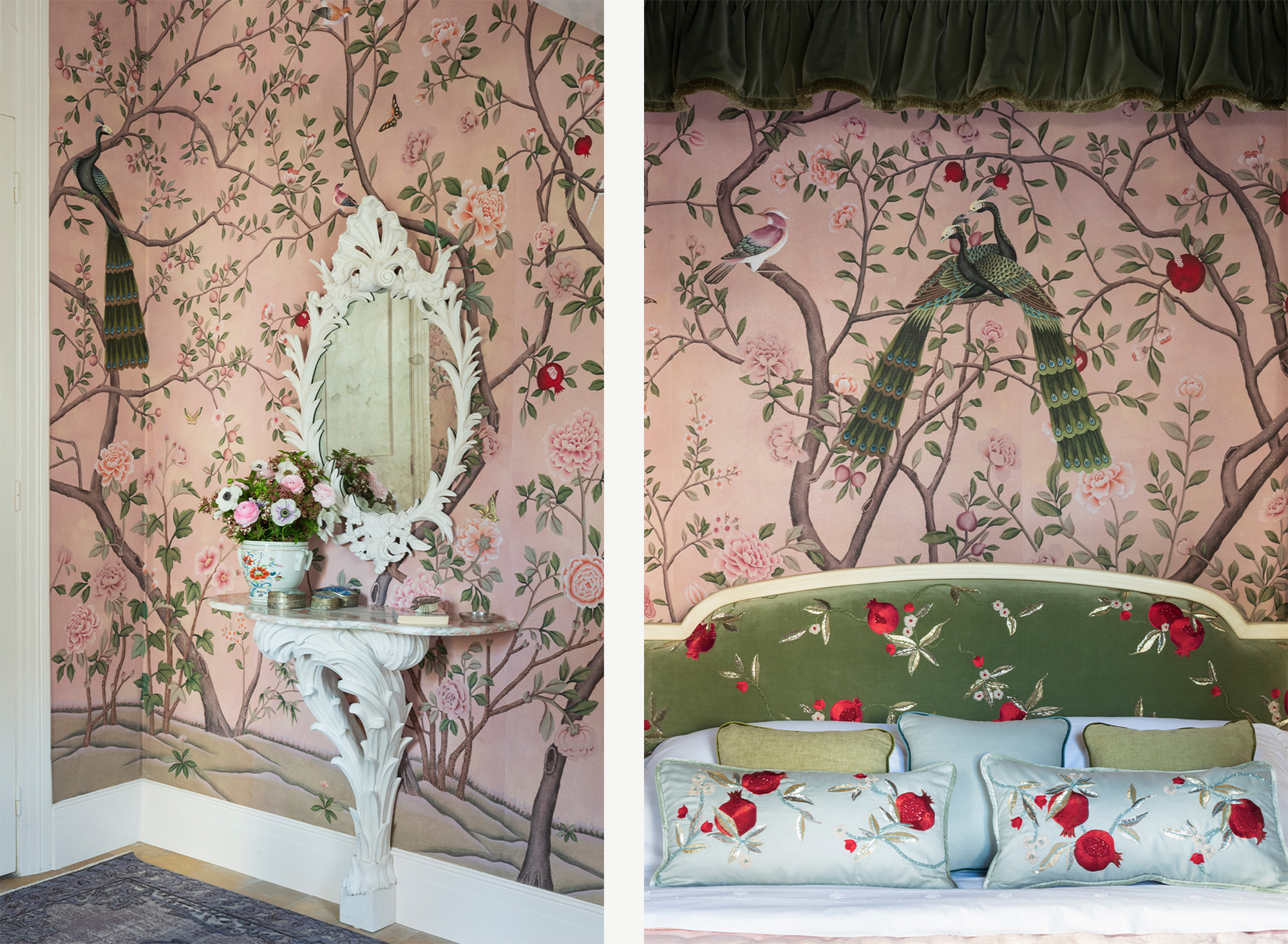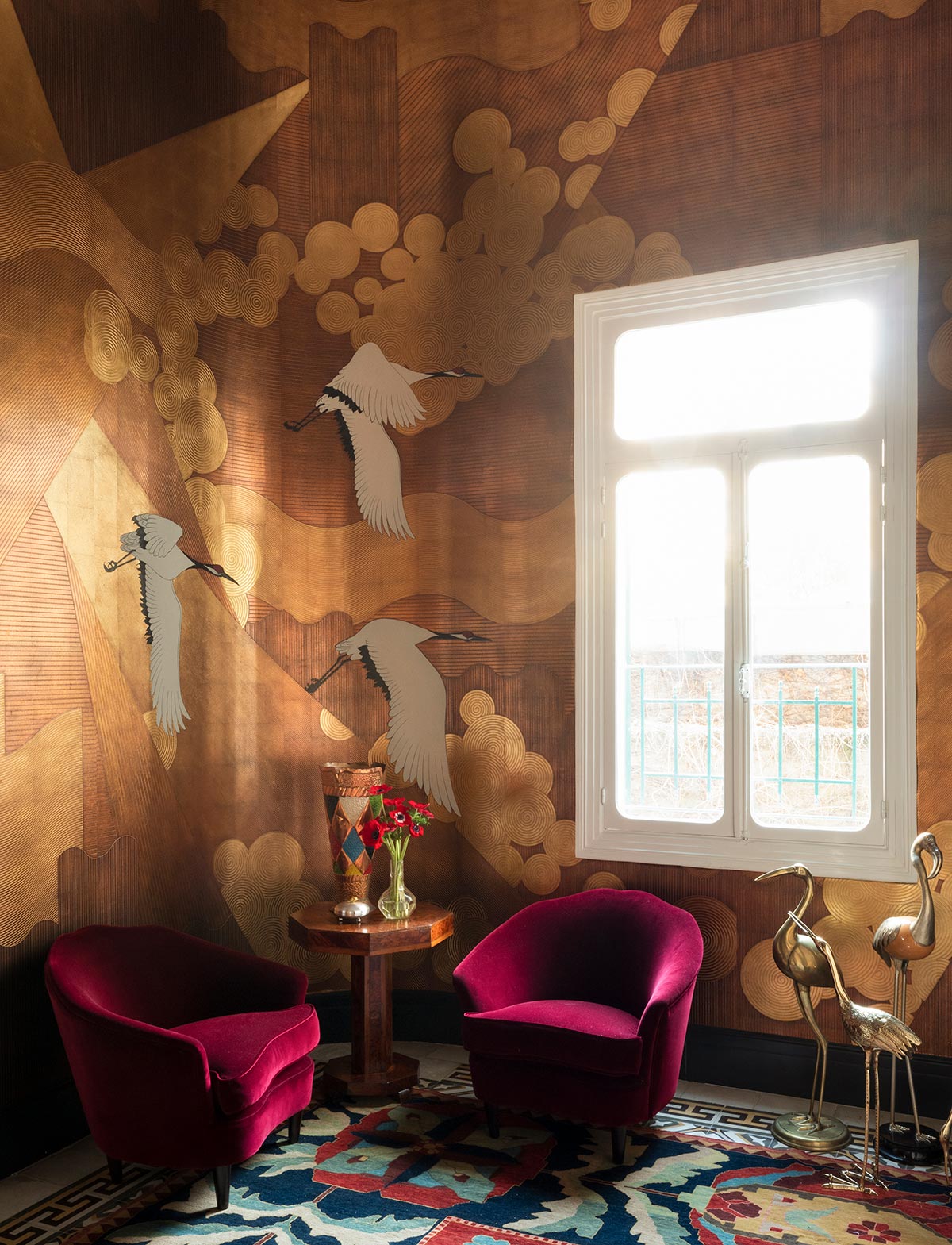 Designed with Portuguese duo Jacques Bec and Artur Miranda of Oitoemponto, 'Namban' fills the display room: a decorative landscape of undulating waves, beams of sunlight and turbulent clouds rendered in a 3 dimensional bas relief effect on antiqued Deep Rich Gold Gilded Paper.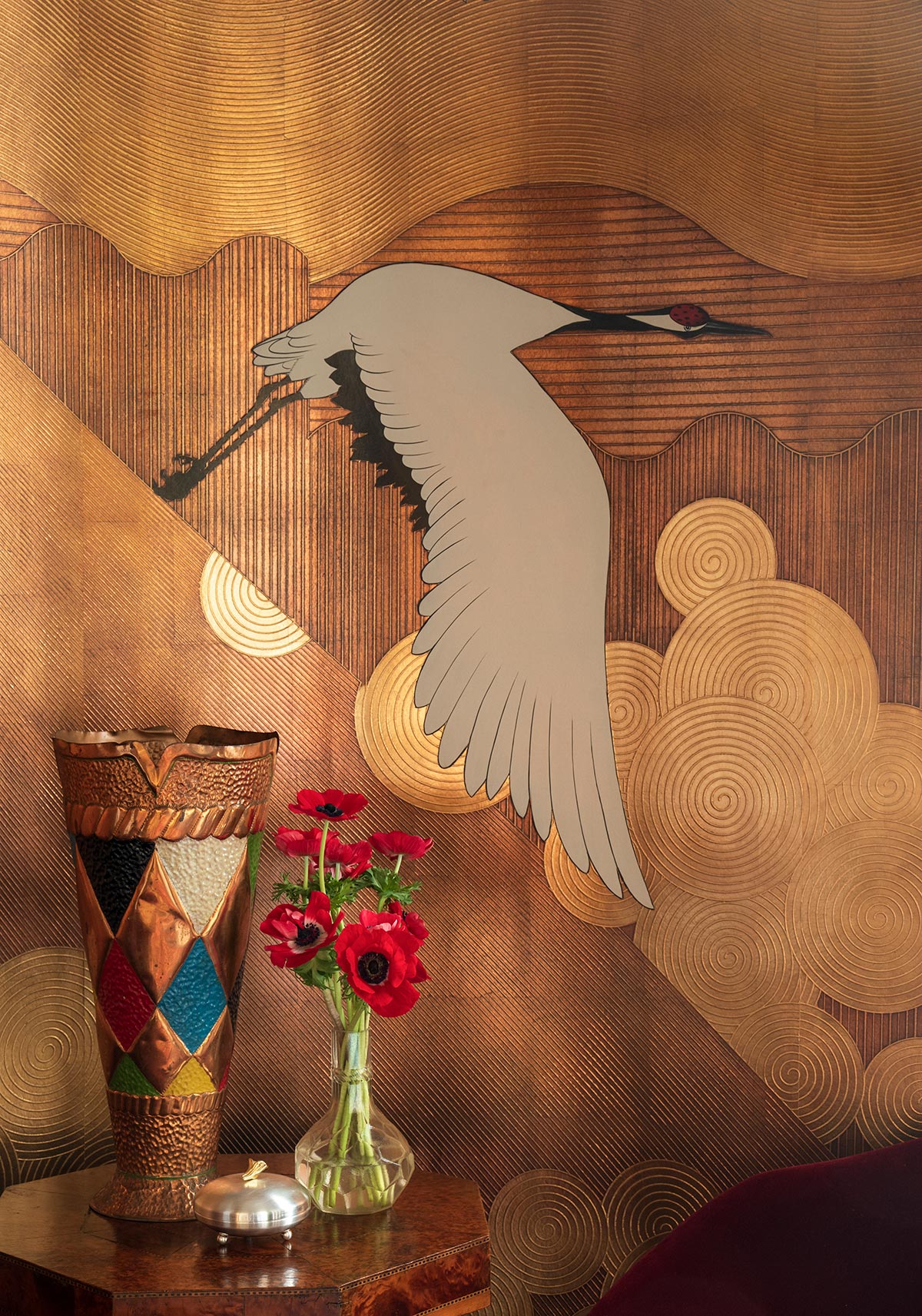 A flock of cranes soar majestically through the composition - in reference to the first Portuguese traders to reach the closed Imperial country by sea, referred to by the Japanese as 'Barbarians of the South'.
In celebration of the unique location, de Gournay invited India Mahdavi and David/Nicholas, two firms spanning established platforms between the West and the Middle East and with strong links to the city, to work on custom designs for the property.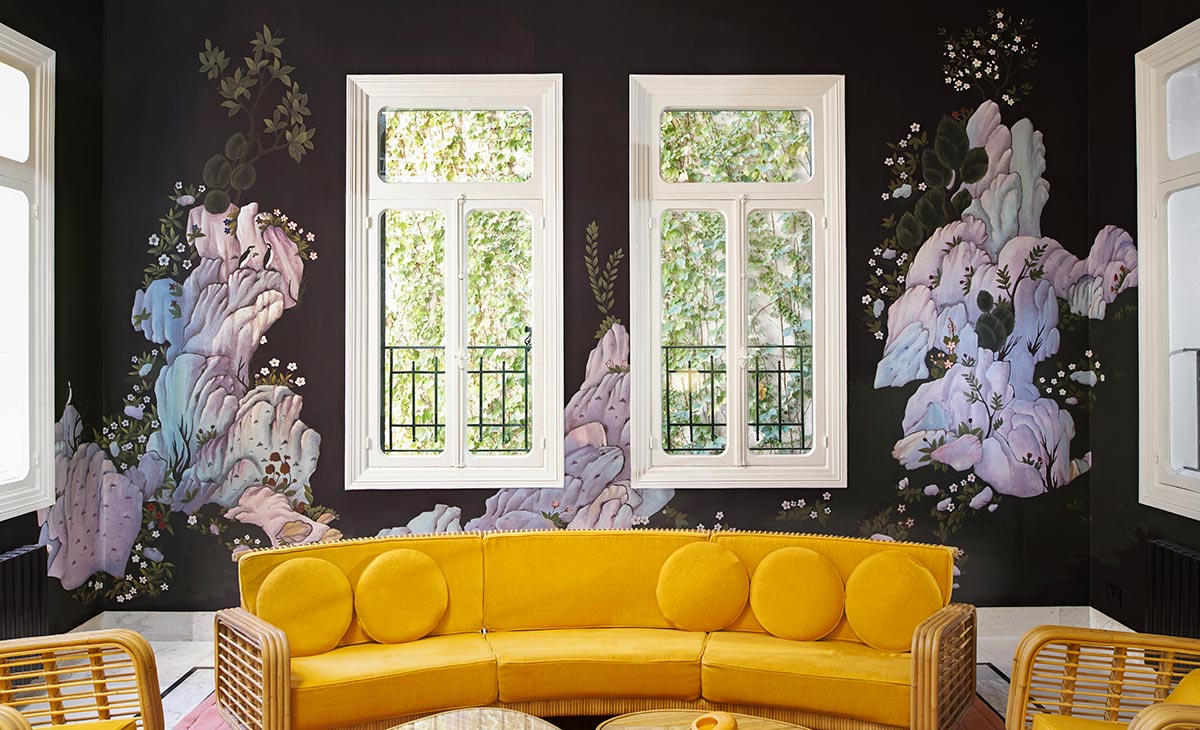 Mahdavi's decorative evocation of Persian miniature painting results in 'Abbāsi in the Sky': a contemplative, stylised landscape on Black dyed silk, depicting elegantly attired riders atop bedecked steeds - spanning the walls of a reception room placed with her own furniture and a Cogolin rug also of her own design. Referencing the work of Reza Abbāsi, a leading member of the famed 16th century 'Isafan' school, the saturated technicolor tones of the floating composition evokes an illustrative type narrative.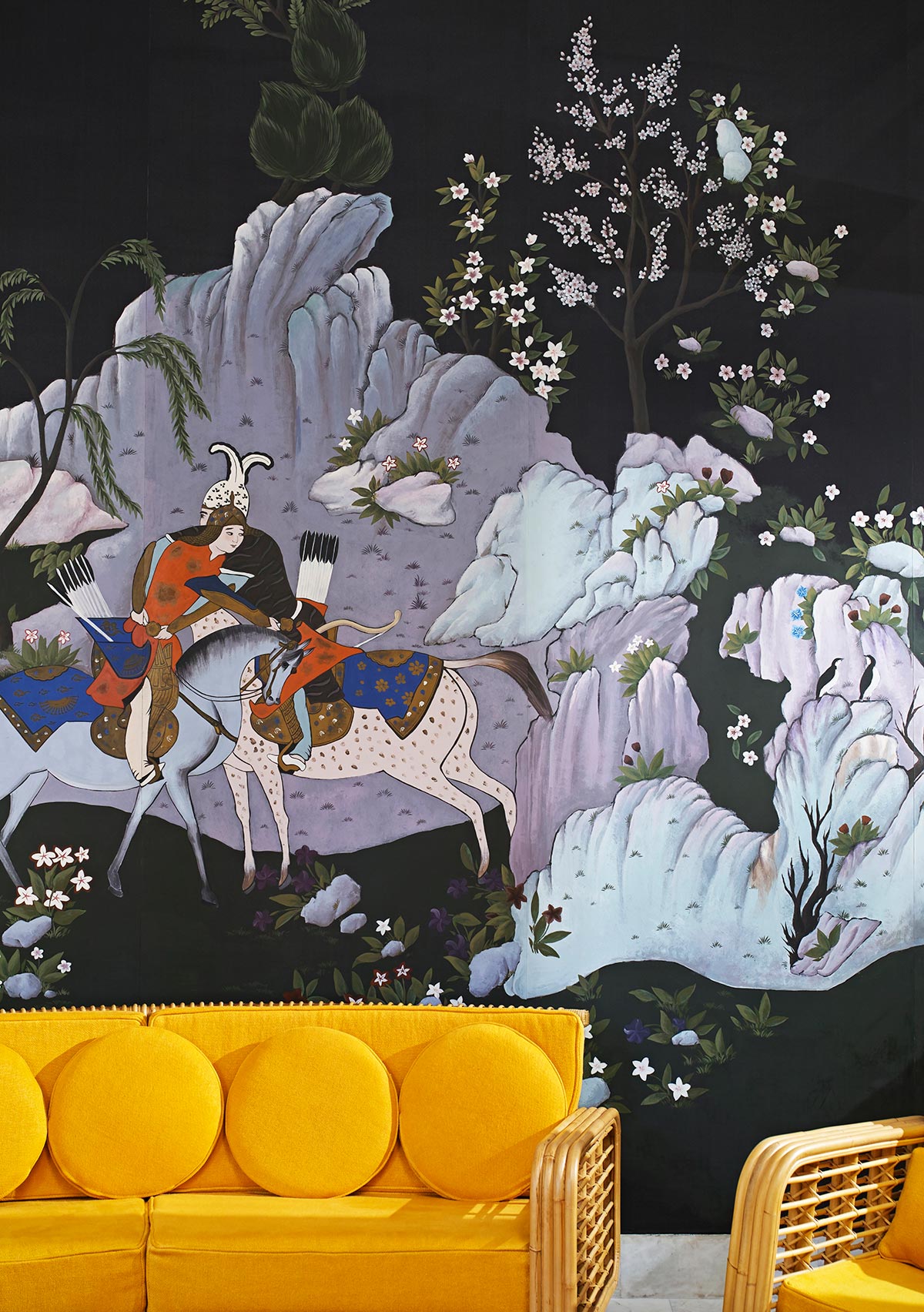 Mahdavi comments: "I have a multicultural background: my mother is Egyptian and my father from Iran; both educated in Europe. My childhood was nomadic. I grew up in Cambridge (Massachusetts), in Heidelberg, the South of France, Paris, New York. Paris again. So I believe I have built a natural aesthetic bridge between Europe and the Middle East from my conscious and unconscious memories — it is quite clear in my work — Between the « over the top » orientalism and the radical « art de vivre » à la française — My palette of work, of colours, of emotions have always spread between those two extremes — in order to design places that are joyful and happy, enriched with those mixed cultures."
Masters of contemporary intuition David/Nicholas envisaged an embroidered wall upholstery inspired by ancient symbolic scripts within the office. 'Glyph' comprises thousands of hand embroidered shapes in a staccato composition that retains a subtle balance with the use of tonal metallics upon a 'Liso Pearl' wool sateen background. Likewise displayed with furniture of their own design, including a laddered mezzanine level library, the room's 'mid century modern' character is offset with the use of a bold Red on the door and window frames.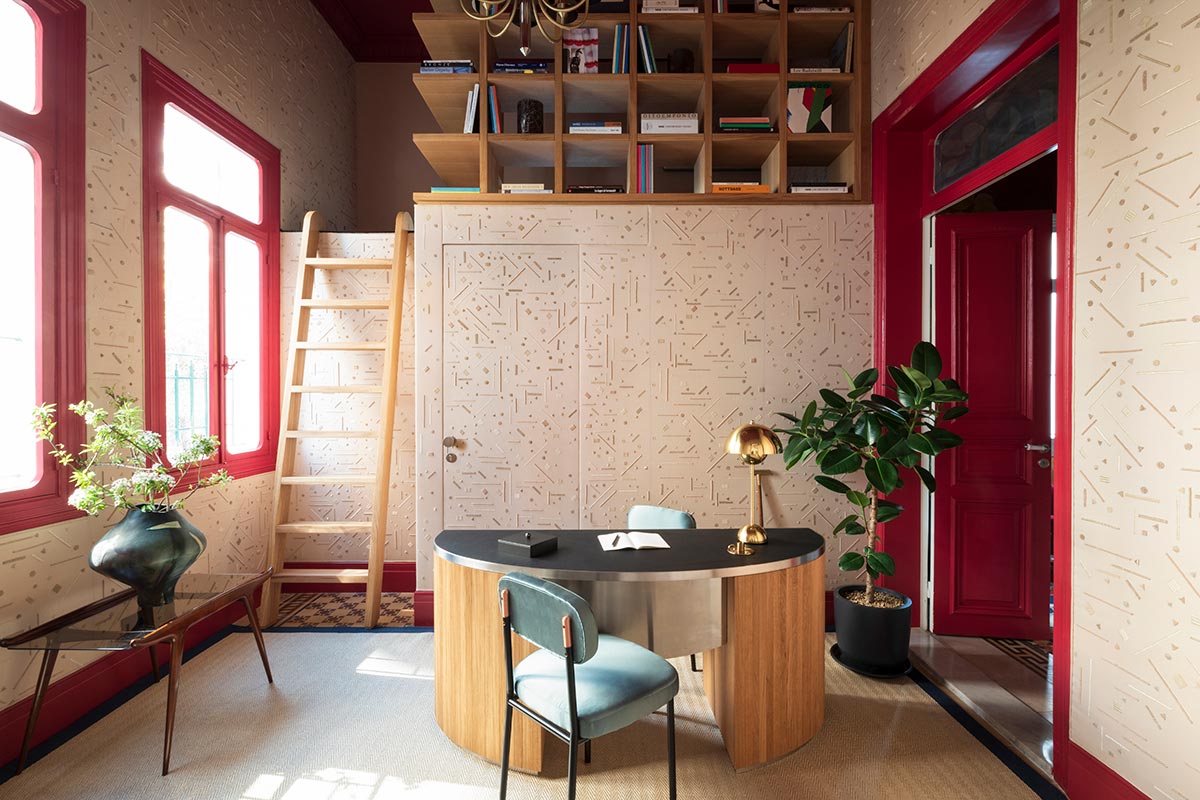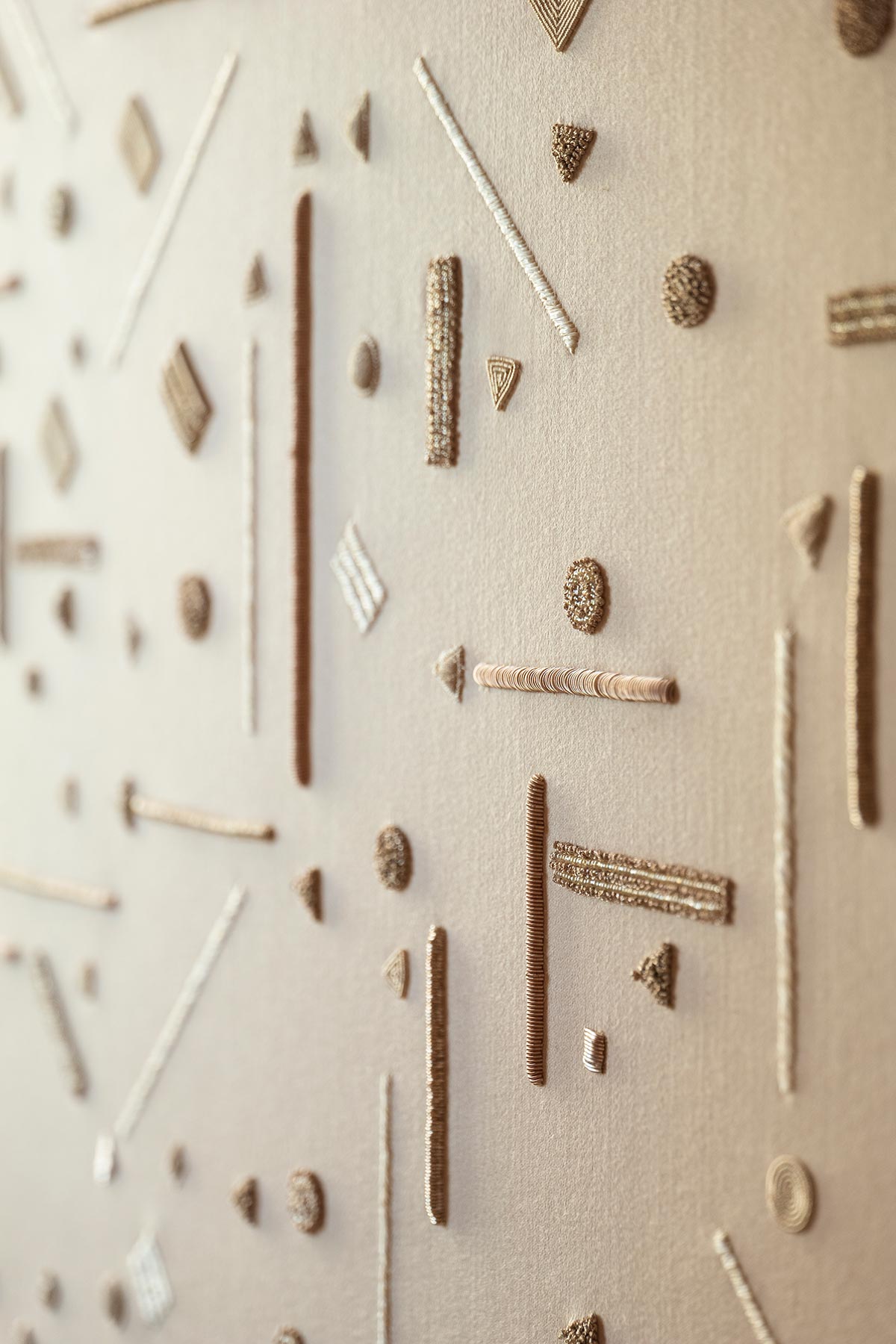 David/Nicolas comment: "Glyph dematerializes traditional codes of what we see as lost civilizations. It seems to come from another time or space. Oriental culture, our culture, is what we grew up with. How we integrate it in our work might seem confusing but it is very clear for us. Some would argue that what we do does not "look" oriental, but we believe that it takes more than a look to achieve an idea that is Oriental. It is a feeling, an energy we communicate within our work - not limited to a pure aesthetic. We are still learning a lot from our culture, how we accommodate it in our own way. If someone follows our work closely they can definitely understand what we are trying to say"