Design in Bloom
For the Chelsea Flower Show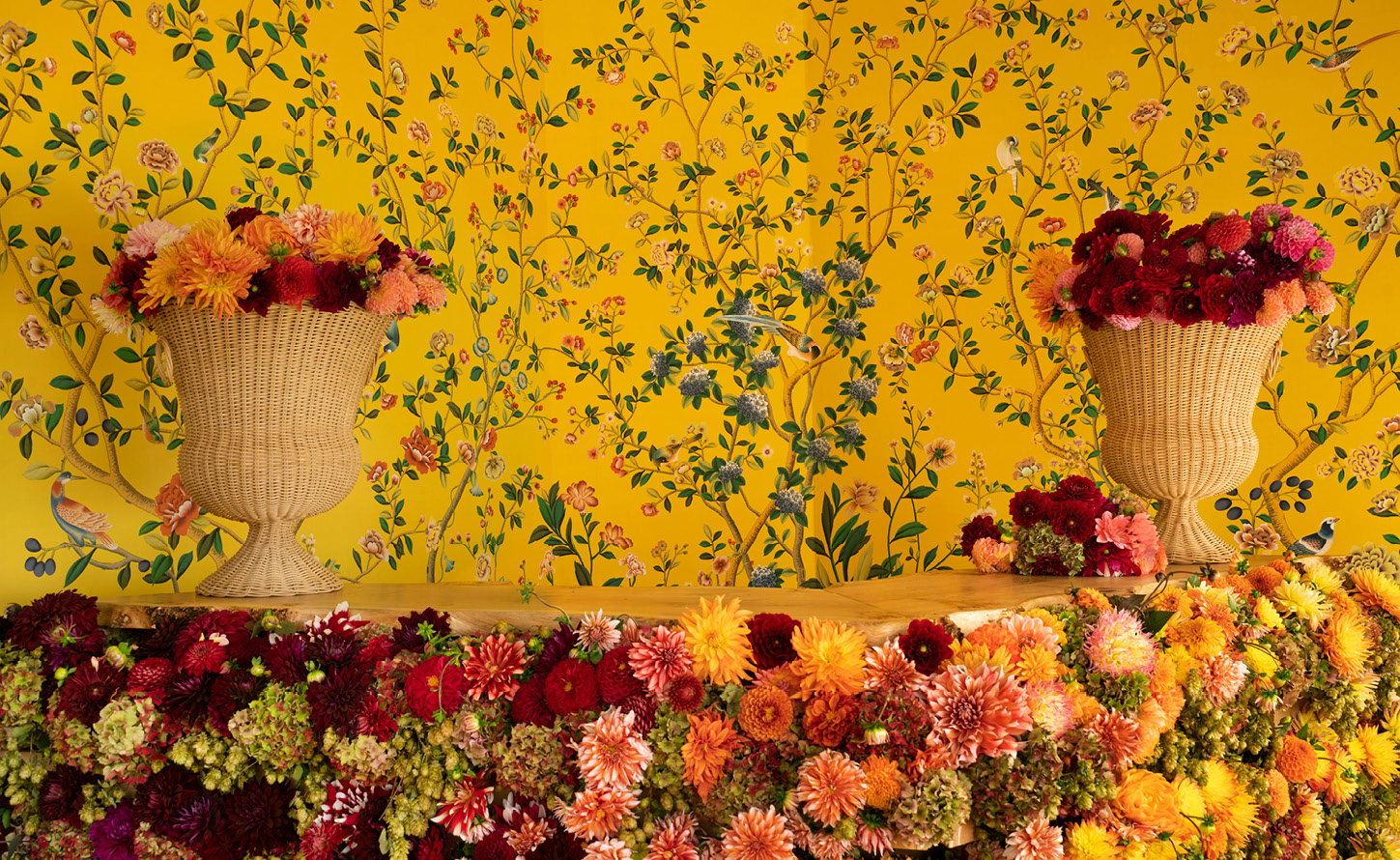 For the occasion of the 2021 London Design Festival and the triumphant return of the Chelsea Flower Show, our London showroom has undergone a seasonal transformation with the installation of brand new, hand painted wallpapers and masterfully staged displays throughout.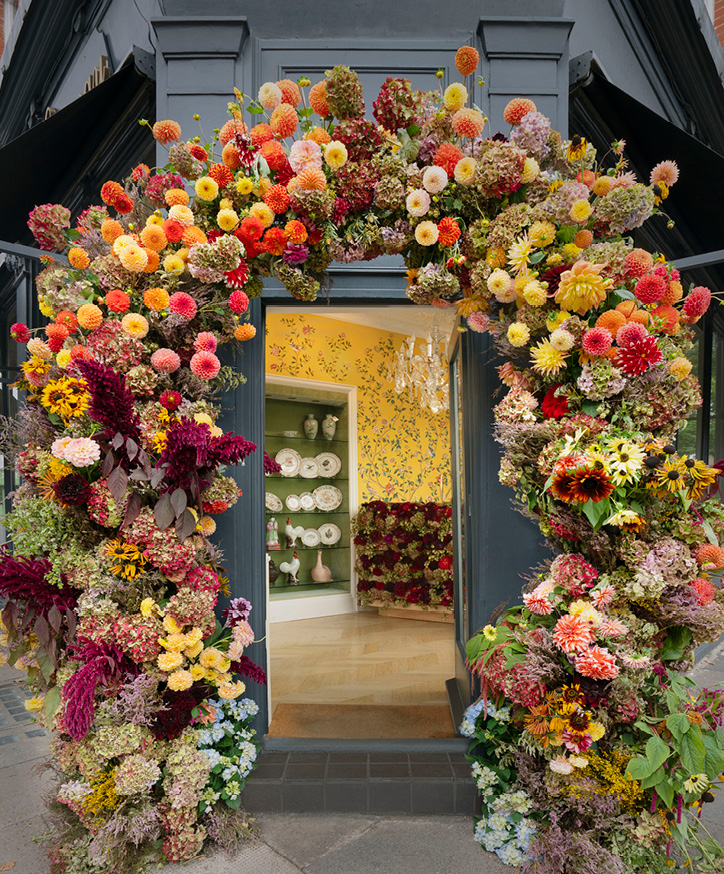 Constructed especially for the week, a glorious arch of fresh flowers surrounding our entrance mirrored the verdant wallpaper installed within – a living interpretation of Chinoiserie's ultimate appeal.
From Suffolk to London: florist Lucy Vail erected a pop up flower shop, bringing an explosion of British Blooms to our showroom, surrounded by the magnificent 'Erdem' Chinoiserie upon Golden Yellow dyed silk. Homegrown Dahlias were hand picked by Lucy from her family-run Floriston Flower Farm, with Lucy and her team creating bouquets throughout the week.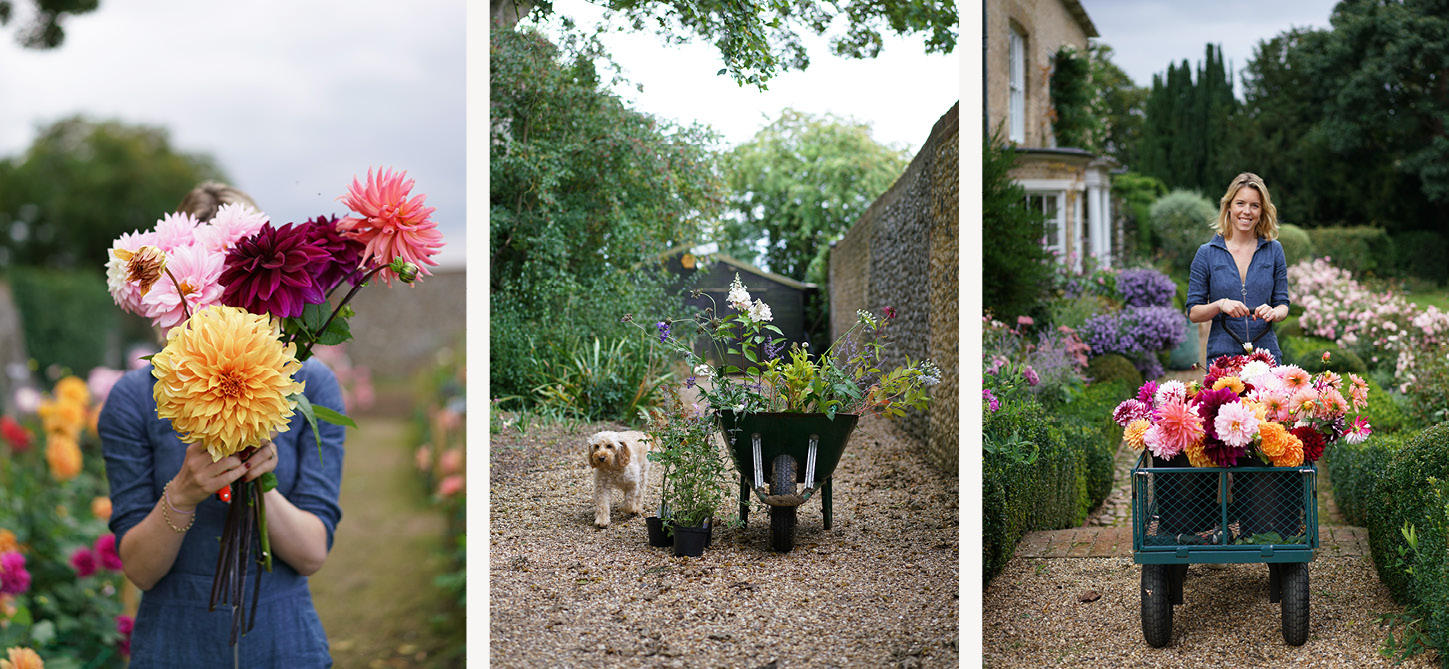 Deliveries of dazzling dahlias were made accross London by our intrepid rider George, upon a specially constructed Cargo bike bedecked in the same 'Erdem' motif, and sporting an apron hand painted with flowers.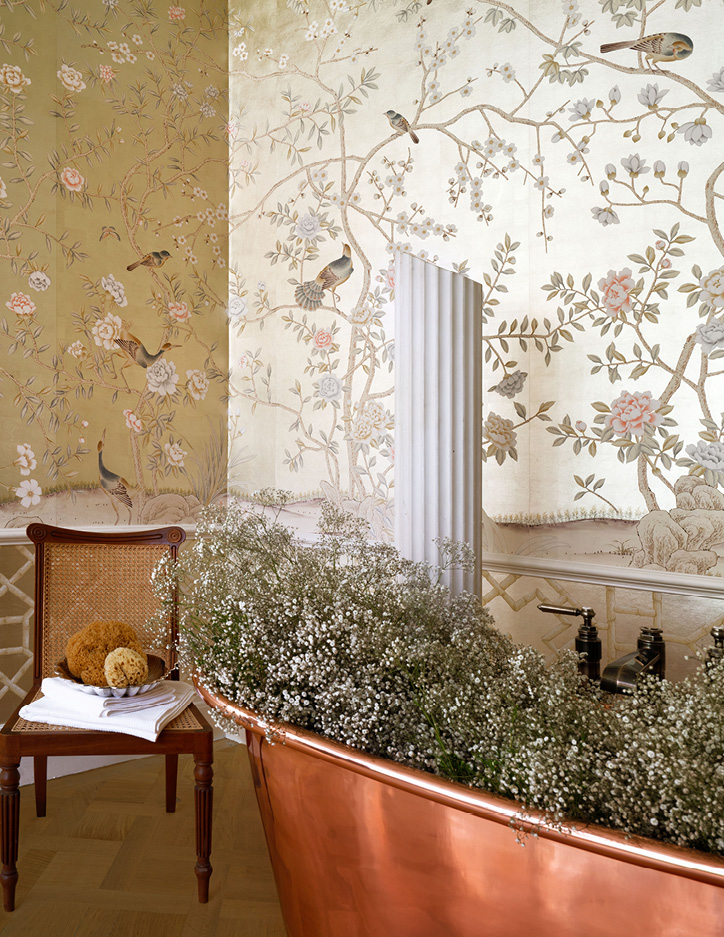 In the adjoining salon, a crisp rendition of the 'Chatsworth' design on
White Metal gilded paper acted as a glowing backdrop for an imagined bathroom: an elegant setting composed around a majestic bath from Drummonds overflowing with gypsophila – its gleaming copper the perfect foil to the hand gilded walls, illuminated with a pair standing column lamps from Lorfords antiques.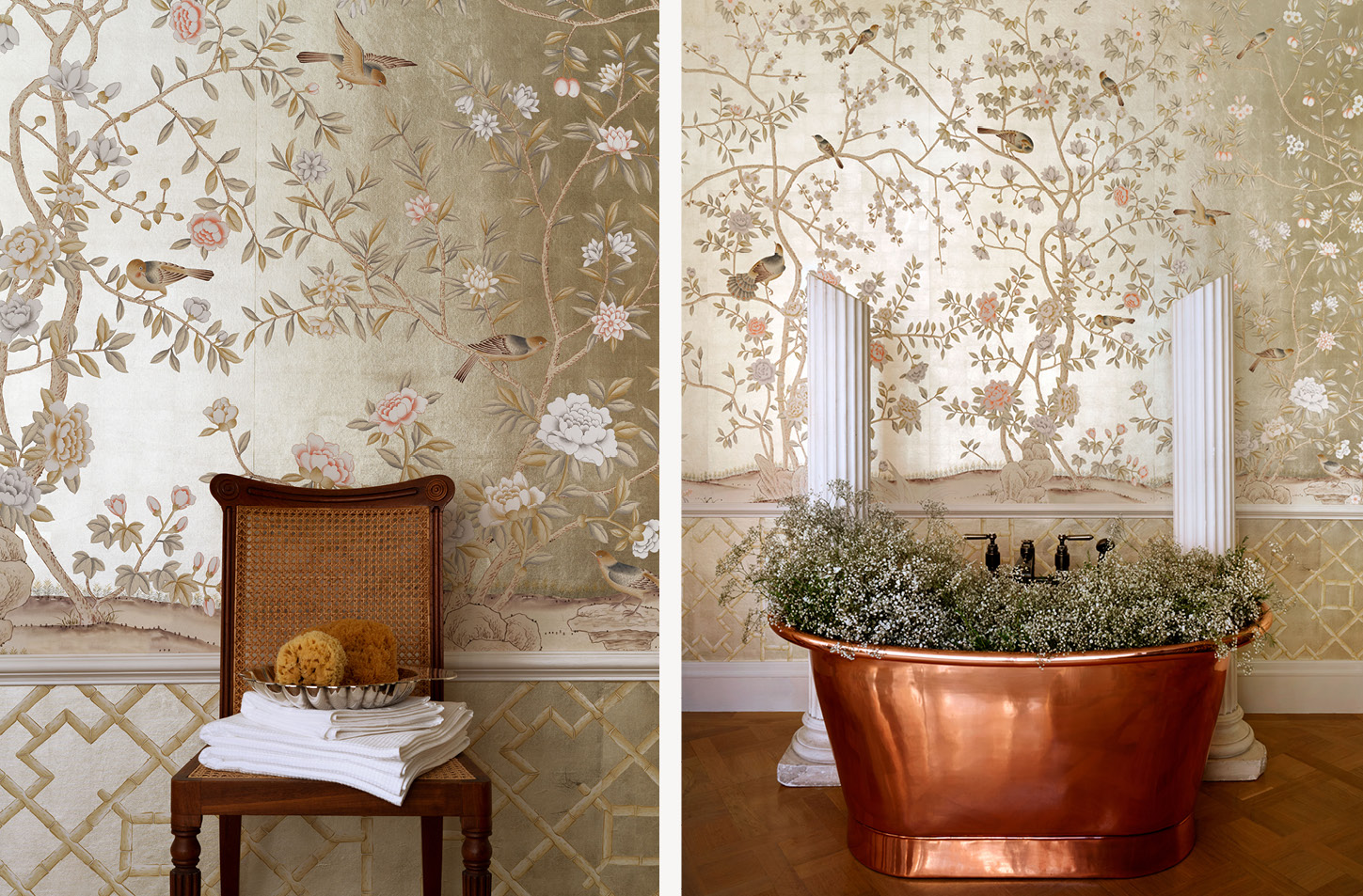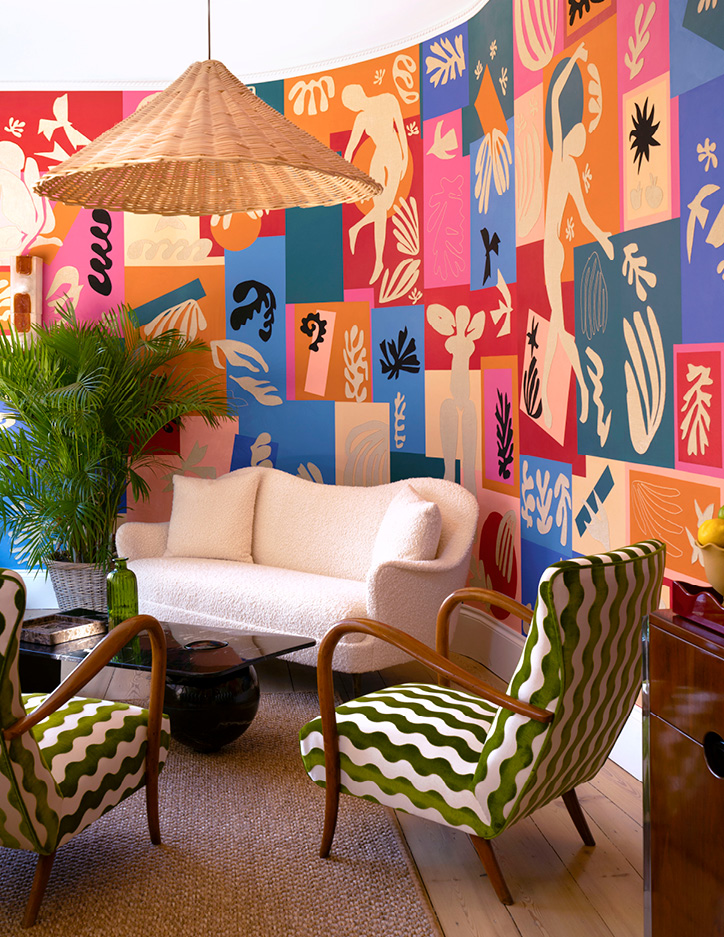 A marvellous Matisse-inspired makeover of the long salon – a graphic collage of figures and shapes hand embroidered in appliqued linen onto a matte painted silk ground in a kaleidoscope of colours.
With gorgeous Miles Redd for Schumacher striped velvet on mid century Italian chairs, attributed to Guglielmo Ulrich, and Altfield 'Shetland' wool bouclé on a 1960's Italian loveseat.
Crowned by a magnificent woven wicker Atlier Vime pendant light, and corresponding pedestal and the wavy edge of a gloss finish Lacquer Company tray.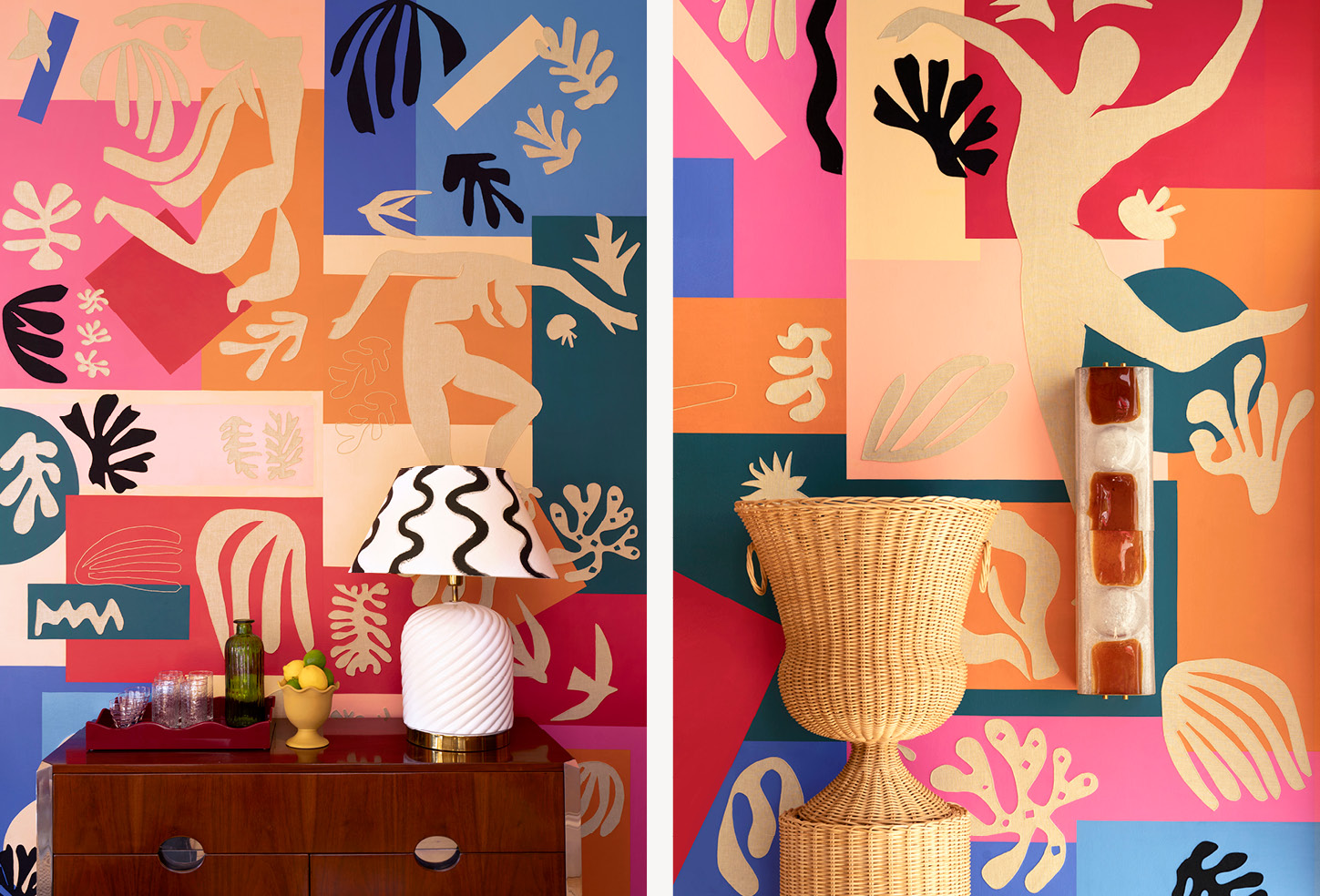 Our window displays play host this Autumn to the 'Botanical Studies' design created with Michael S. Smith – its finely rendered depictions of plant specimens on enlarged sheets of India Tea Paper a background to sculptural pieces from Brownrigg antiques and columns from Retrouvius.