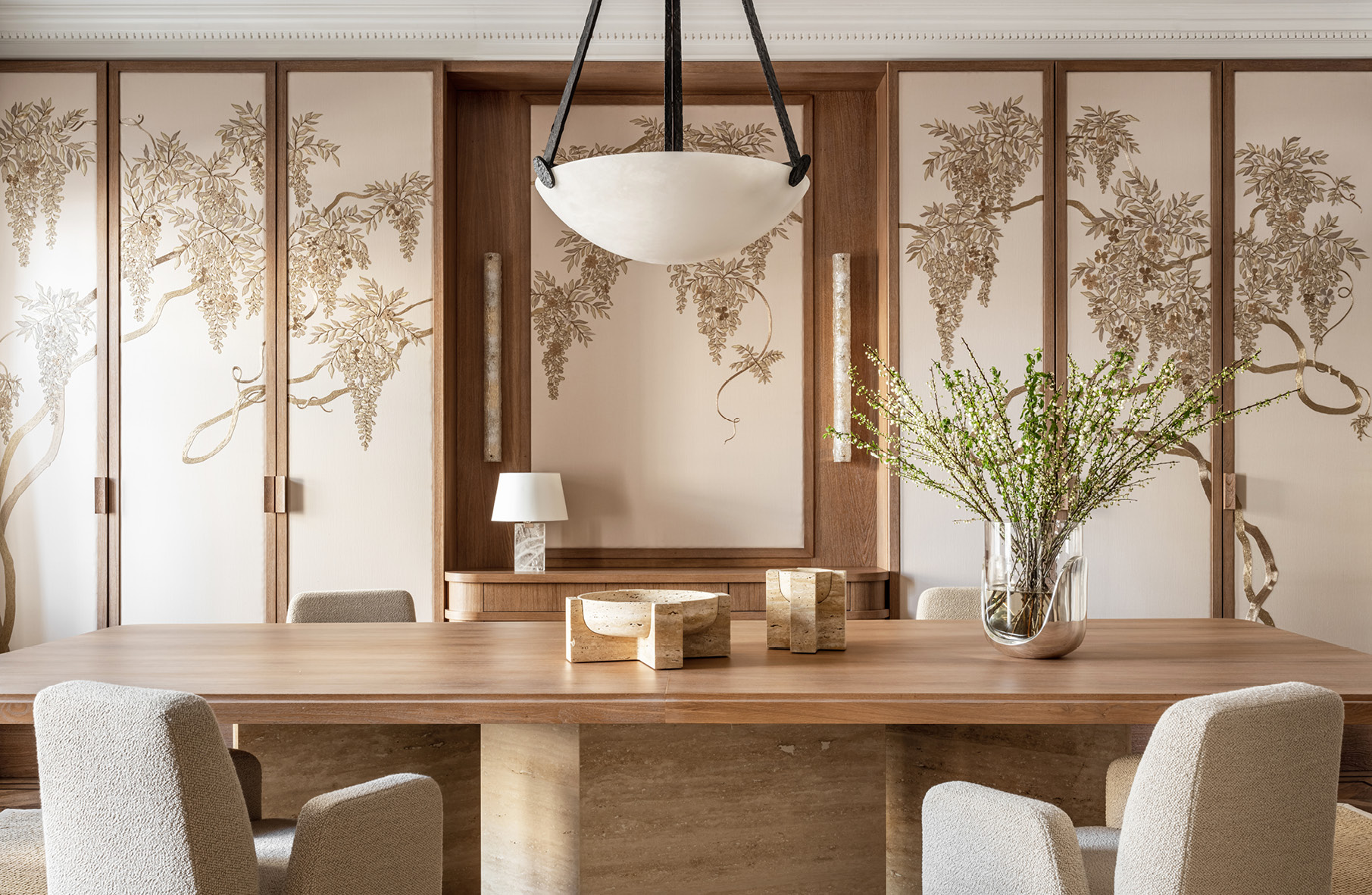 When de Gournay invited Georgian-born, Moscow-based interior designer Irakli Zaria to redecorate its Moscow showroom, "my first idea was to do something unexpected," he says. Situated in the Arbat District which runs west from the Kremlin to the River Moscow, once the favoured preserve of artisans and artists, Irakli wanted to marry the area's historical past with his own keen eye for a contemporary, sophisticated present in a quietly luxurious way. "In my work, I am always mixing antique and 20th century modern pieces with 21st century art," he says, "so here, although Russians are more traditional, with a love for the neoclassical style, I wanted to do something neutral, elegant, and sophisticated, but at the same time fresh."
For the showroom, Irakli has designed a subtle, soothing 'Wild Grasses' panoramic, revised from a pattern he first created with de Gournay for a residential project in Moscow. Originally inspired by an image of an 18th century Japanese Edo period screen, Irakli has taken the motif of towering obana grasses, complete with delicate feathery 'tail heads' dancing in a gentle breeze, and created a new pattern which he has swathed across both walls and curtains, enveloping the room in sumptuous silk.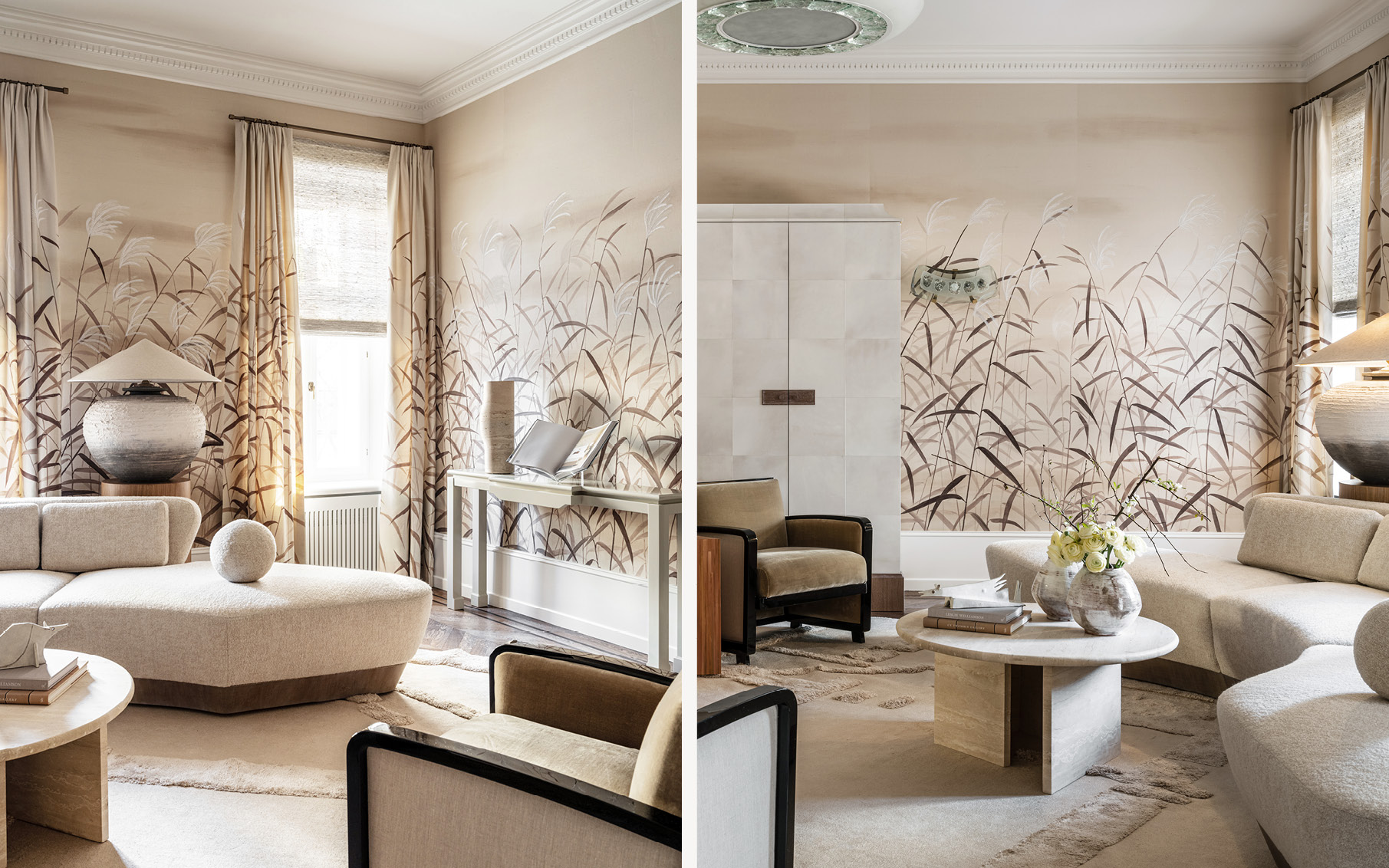 Sitting in the space, "you feel immersed in nature," he says. Hand painted onto a slub silk background for added texture, the background was first painted with a layer of misty washes to lend depth. Using watercolors, the grass leaves and stems in the foreground have been painted more opaquely, while the background grasses are more translucent. The pure white 'tail flowers' at the top of the grasses, "adding movement and air to the design," says Irakli, have been fashioned with fine silk threads using delicate Suzhou needlework, one of the oldest embroidery techniques in the world.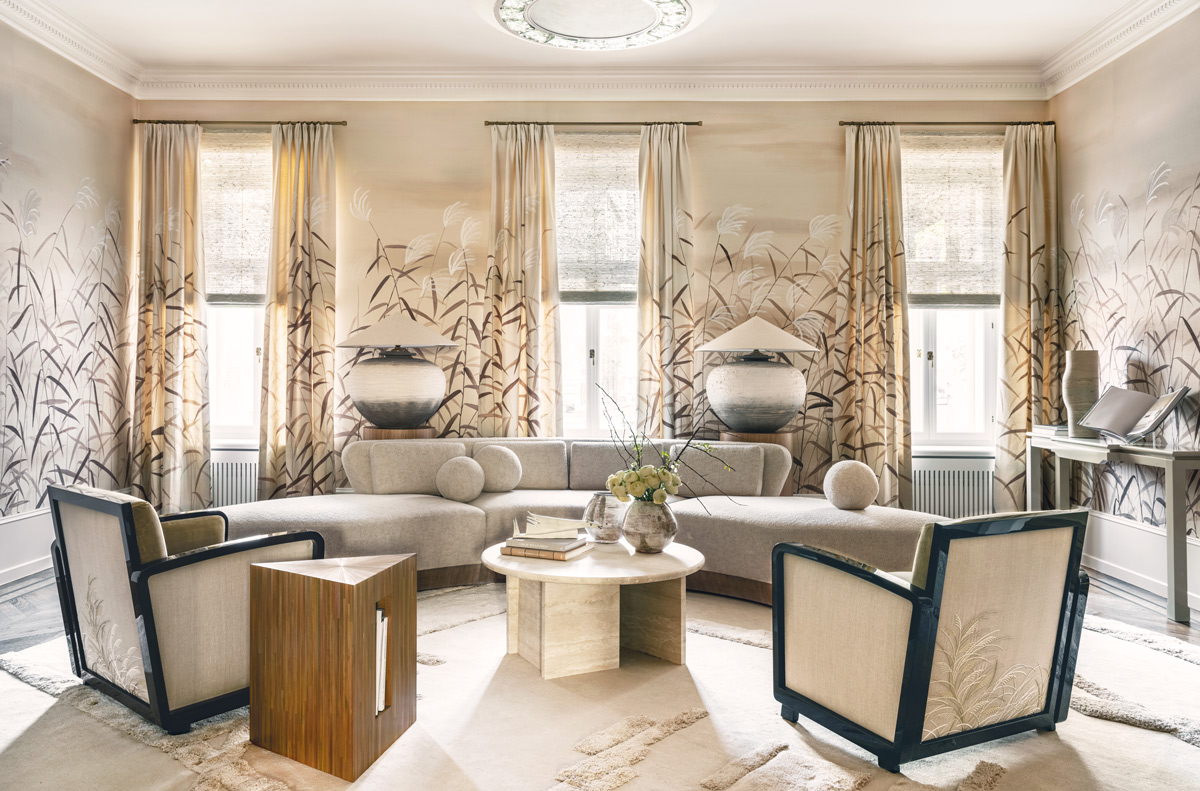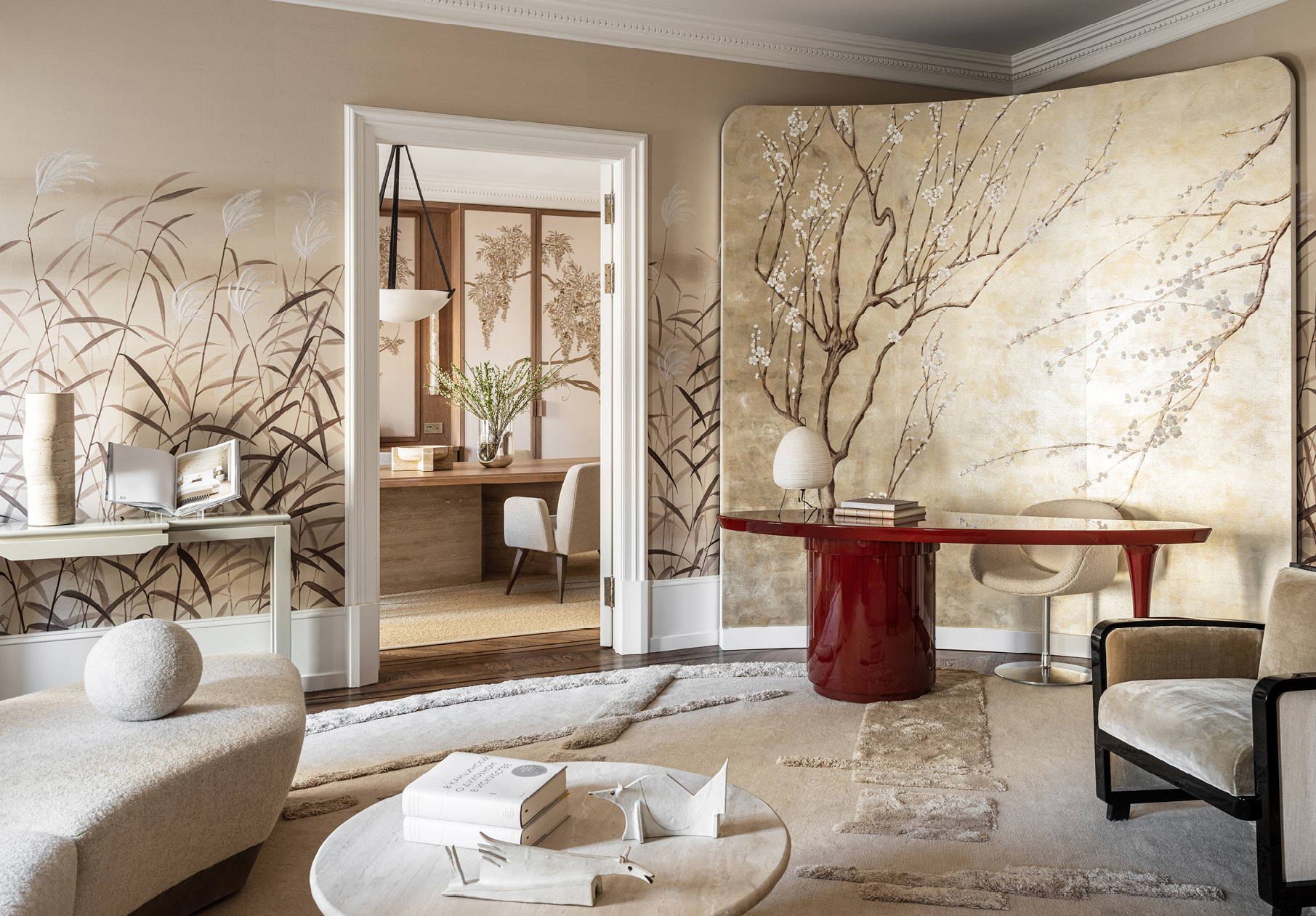 Gilded curved screens feature two more of de Gournay's designs, 'Willow and Egrets' and 'Ogata Blossom' (new additions to the Japanese & Korean collection) – both also inspired by screens from the Edo period, when artists first pioneered painting onto gilded ground in a style called Rinpa, where pigment is dropped into water to create organic inky effects. In 'Willow and Egrets', a special Japanese technique called Sunago has also been used to sprinkle gold leaf over the surface of the wallpaper, lending a glittering, ethereal edge to the clouds.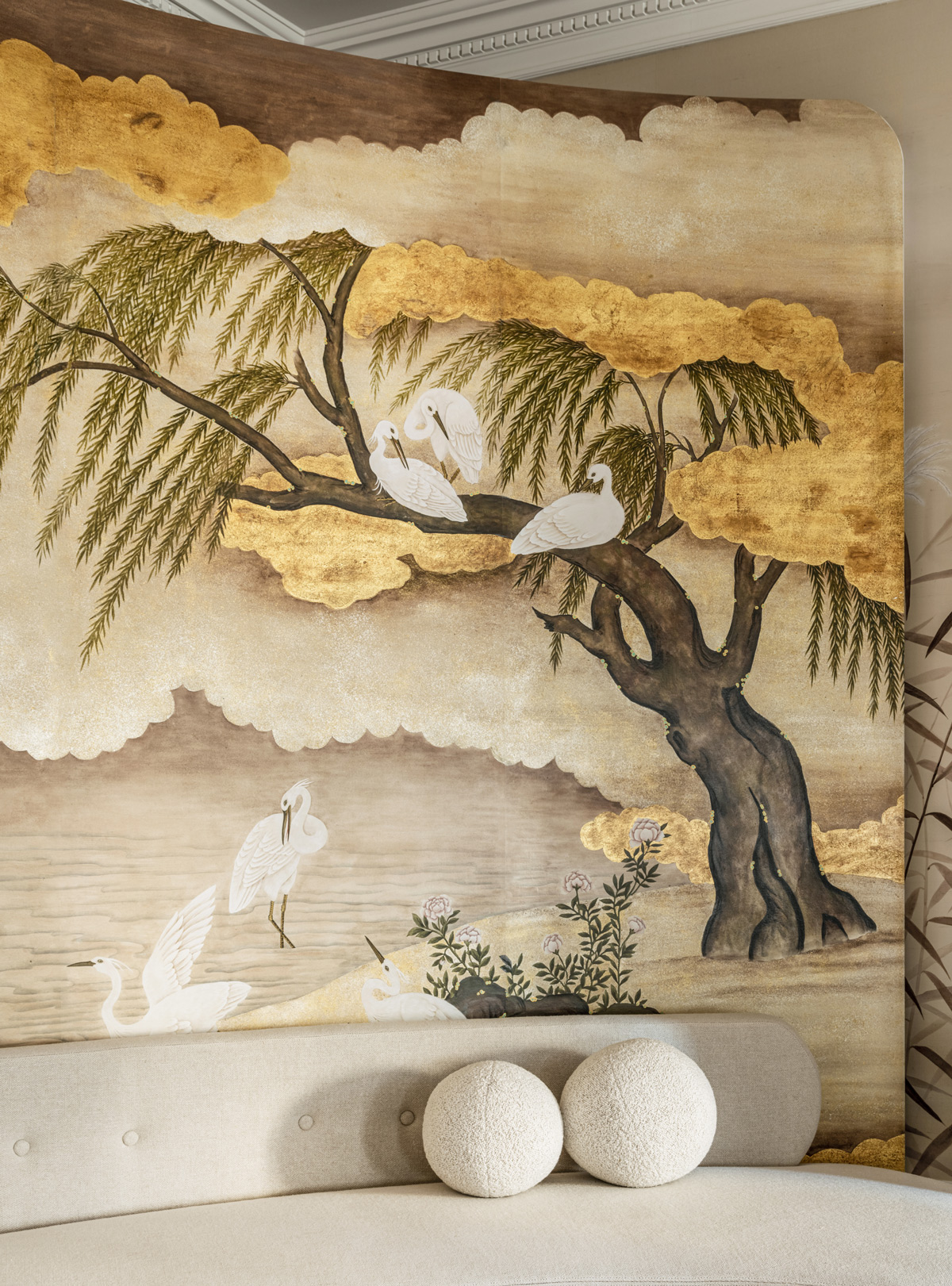 Into the mix, Irakli has teamed seductively curved sofas and armchairs with triangular side tables, abstract bases for both dining and coffee tables, and rough, bulbous table lamps (all exclusively created by the designer for the space) with vintage lighting by French designer Max Ingrand (once artistic director of FontanaArte). "A little bit of asymmetry adds life to a space," he enthuses.

The heavily embellished 'Magnolia Canopy', first developed for the brand's Beirut showroom, hangs within the dining room.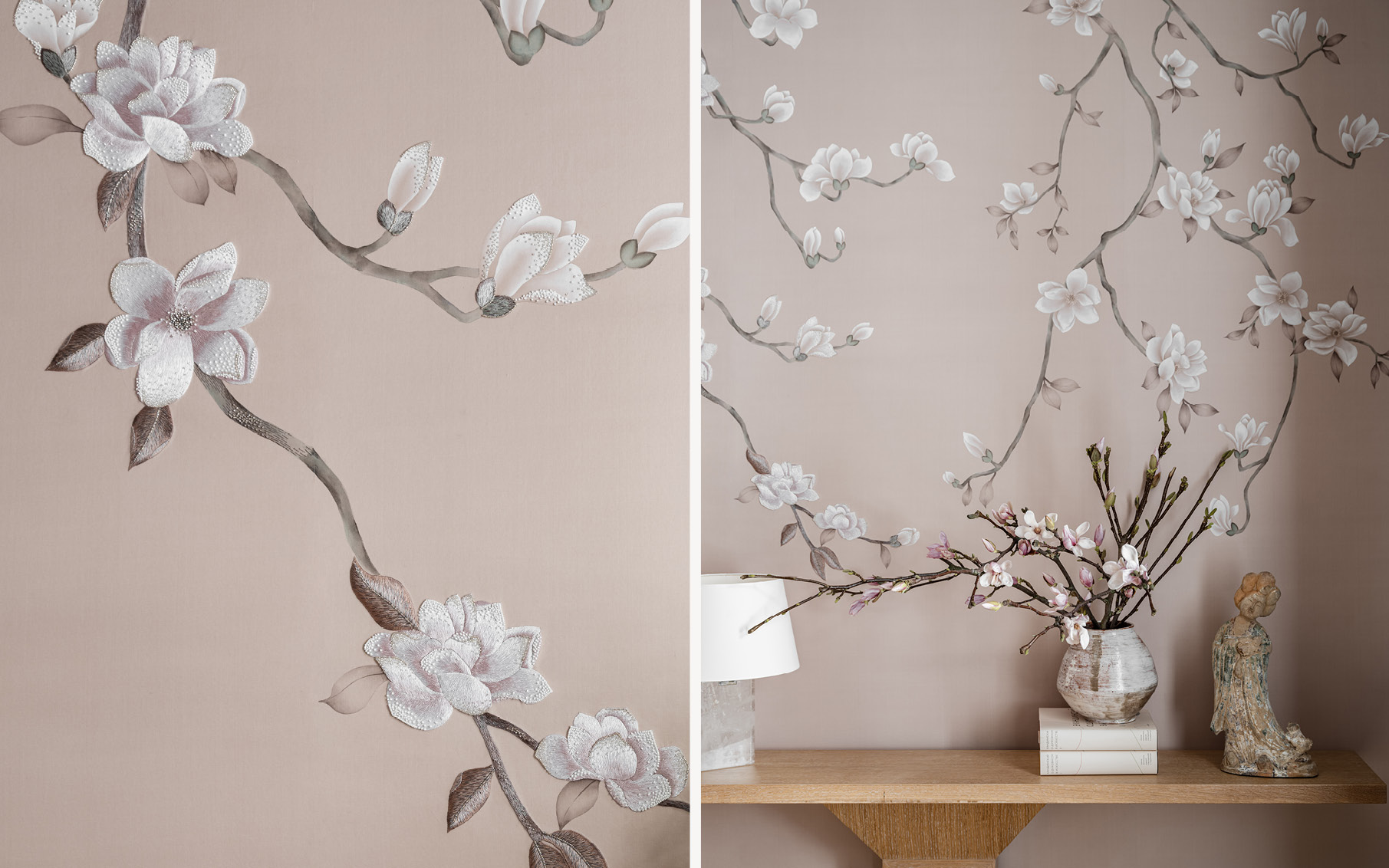 "You can see Irakli's design is rooted in an ancient Japanese art form, but it feels very contemporary in the way it delivers a slightly stripped back, simpler version of nature into a space." says de Gournay's Creative Director, Jemma Cave.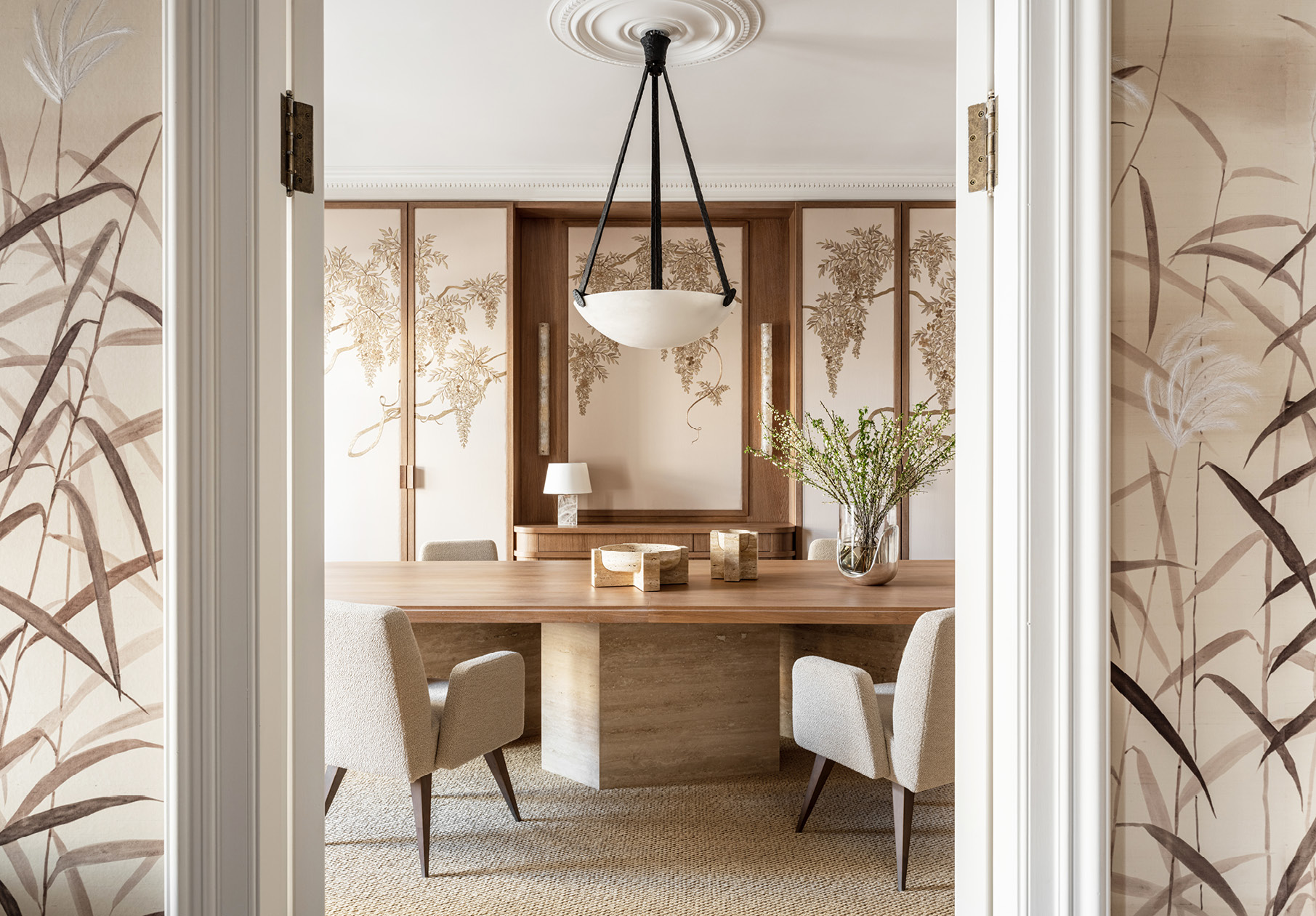 Text by Fiona McCarthy. Interior design by Irakli Zaria. Photography by Mikhail Loskutov