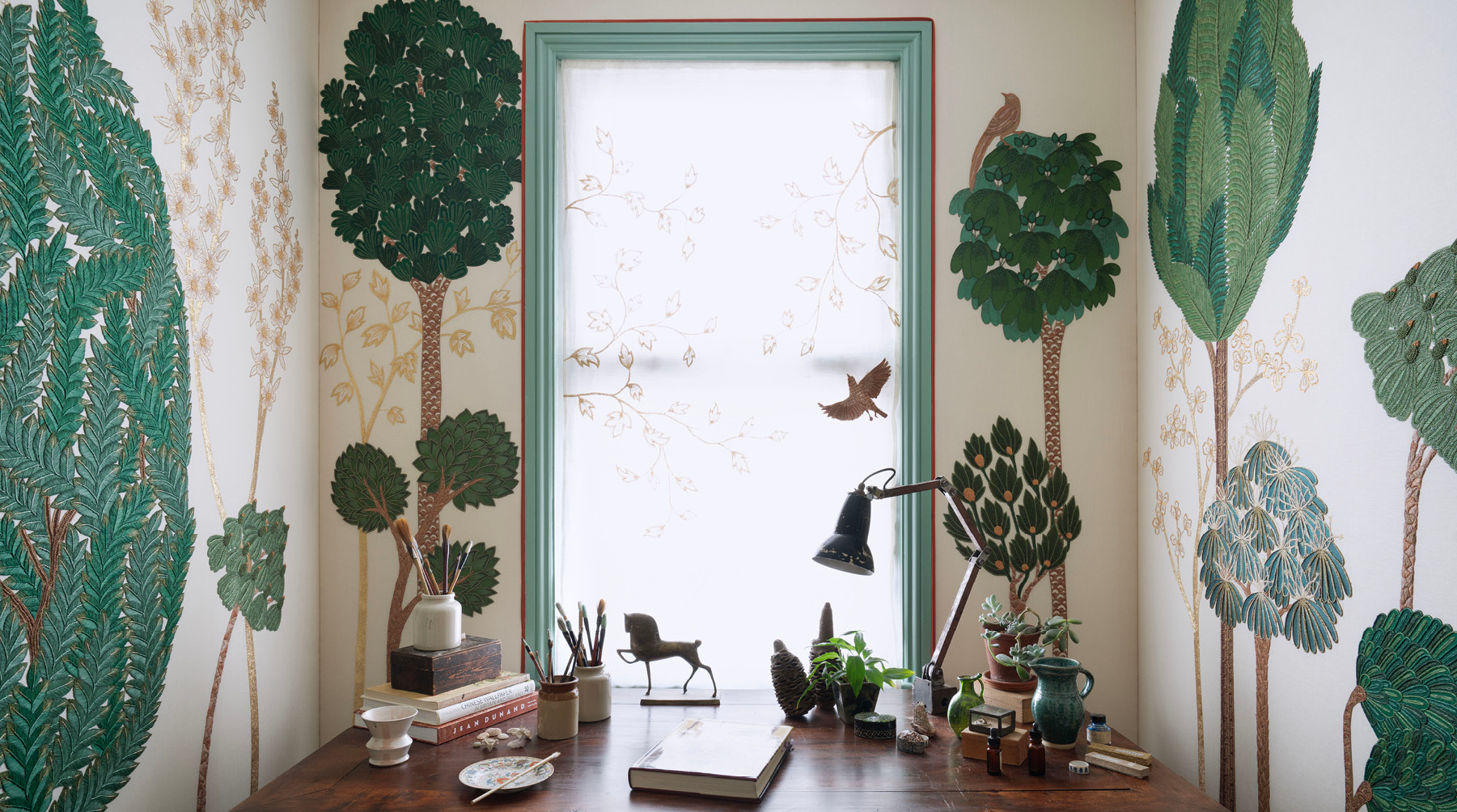 Capturing the expressive elegance that typifies the original inspirations, de Gournay's new Mughal collection is comprised of hand painted wallpapers and hand embroidered wallcoverings and fabrics, presenting a vivid assortment of scenes and compositions. Enjoy feasting your eyes on elephants and tigers, Princes (and lovers), gleaming palaces, dense forests and manicured gardens, wild landscapes and tranquil ponds that express the symbols, history, clothes, crafts and vibrant lives of the Mughal Empire interpreted by brilliant artists whose work we will try and honour.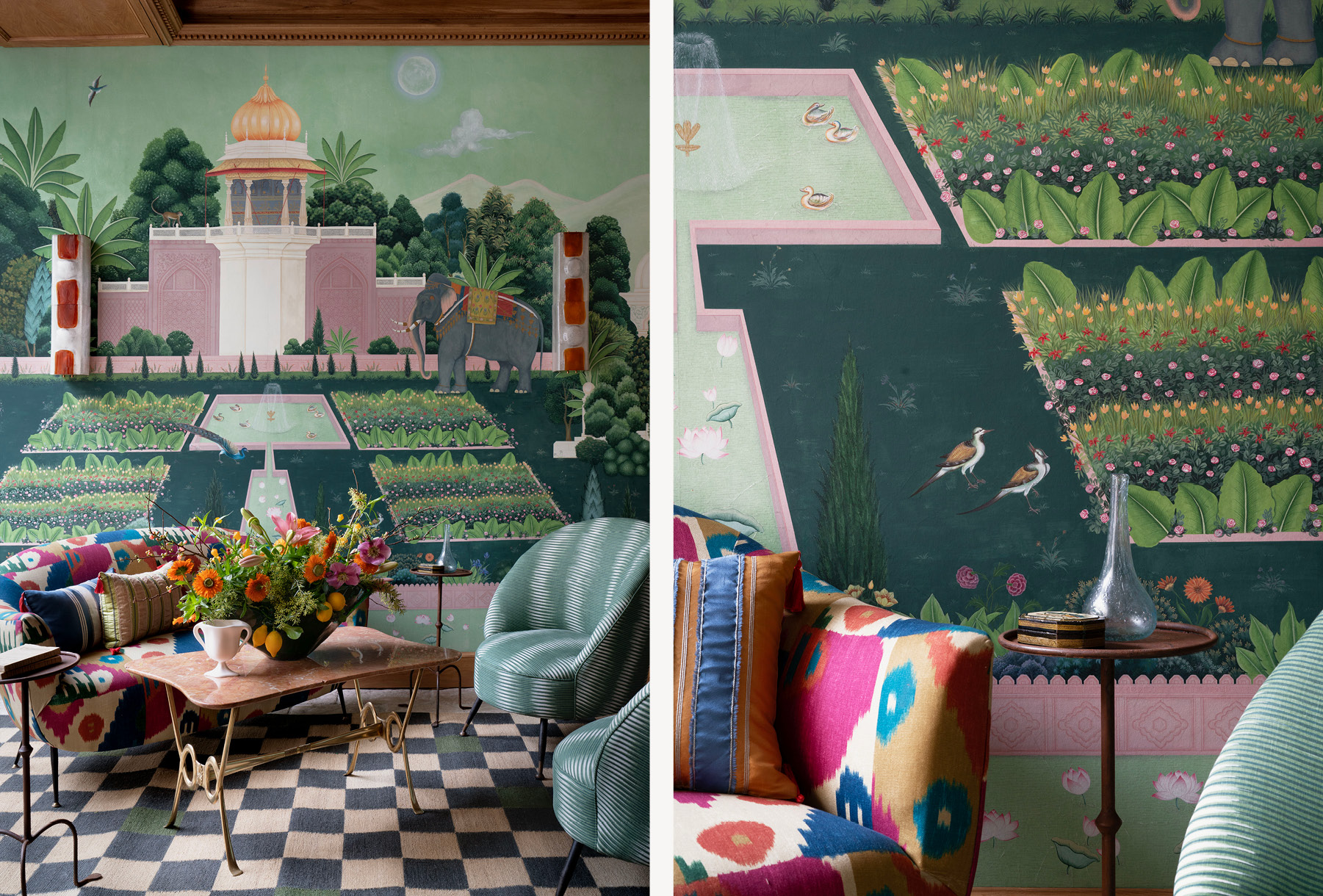 An ornate scene of a gleaming white palace amidst verdant but orderly gardens, 'Mahal Garden' takes as its inspiration hand painted works from the Mughal courts of the late 18th century, in particular splendid renditions of native wildlife - including a majestically clothed elephant, a cheetah and a leopard - surrounded by exquisite hand painted depictions of flowers.
A counterpart of sorts to the hand painted 'Malwa' motif, 'Mughal Trees' is a similar depiction of lush trees embroidered by hand in their entirety - the same palm, blossom, cypress and Banyan varieties composed of assorted raffia, beading and appliqué embroideries, resulting in a vivid tactility in keeping with the bold and graphic forms visible.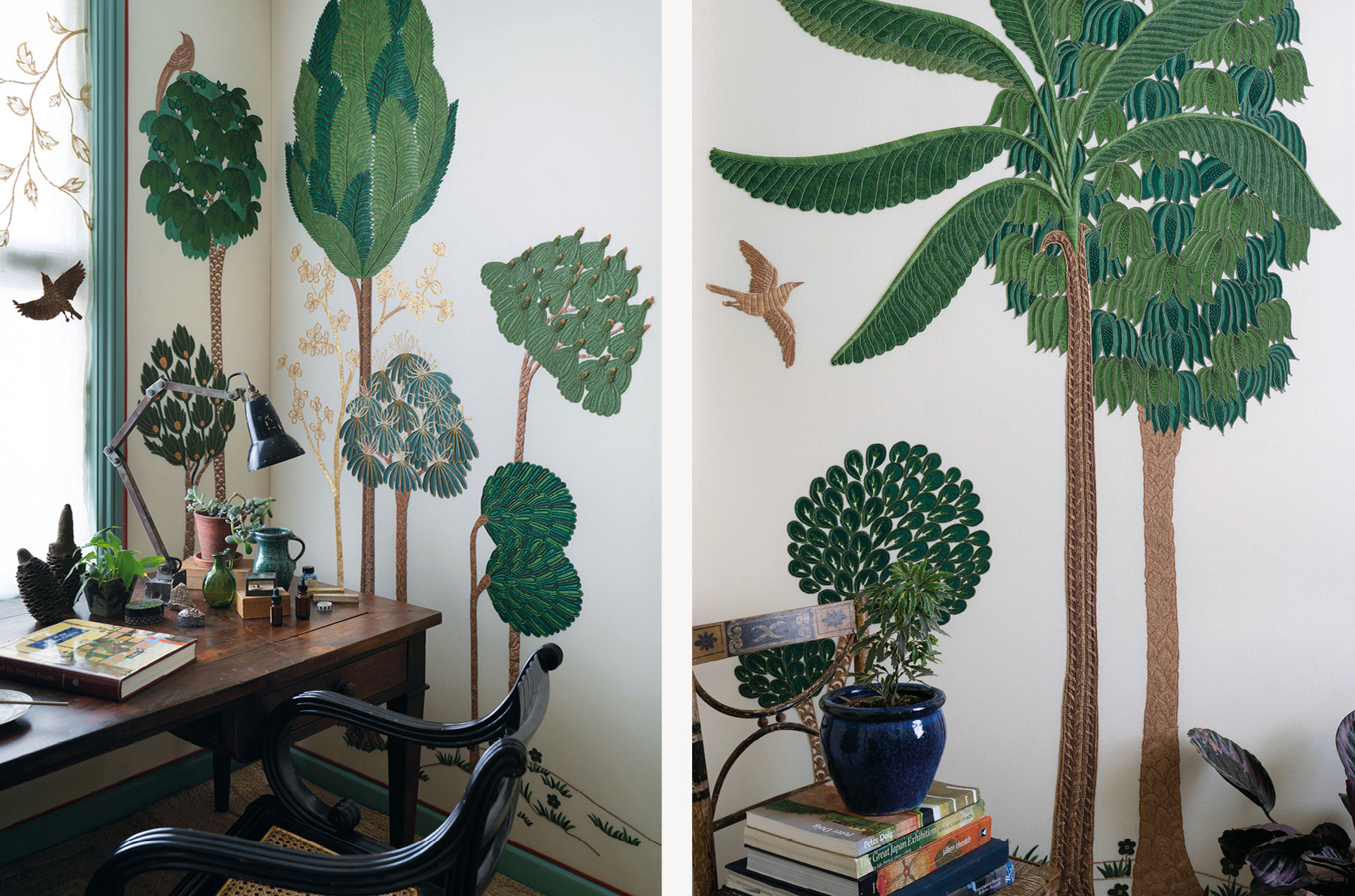 As the Mongols of Genghis Khan spread out across central Asia, having already conquered China, and set up the Yuan dynasty, so the art and artefacts and artisans flowed with it and embellished the already thriving local artistic and cultural traditions. The Timurids established themselves in Persia and converted to Islam and then via Afghanistan eventually established the Mughal Empire in India whose principal language remained Persian until the mutiny of 1857 when the last Mughal Emperor was sent to Burma to live out his old age.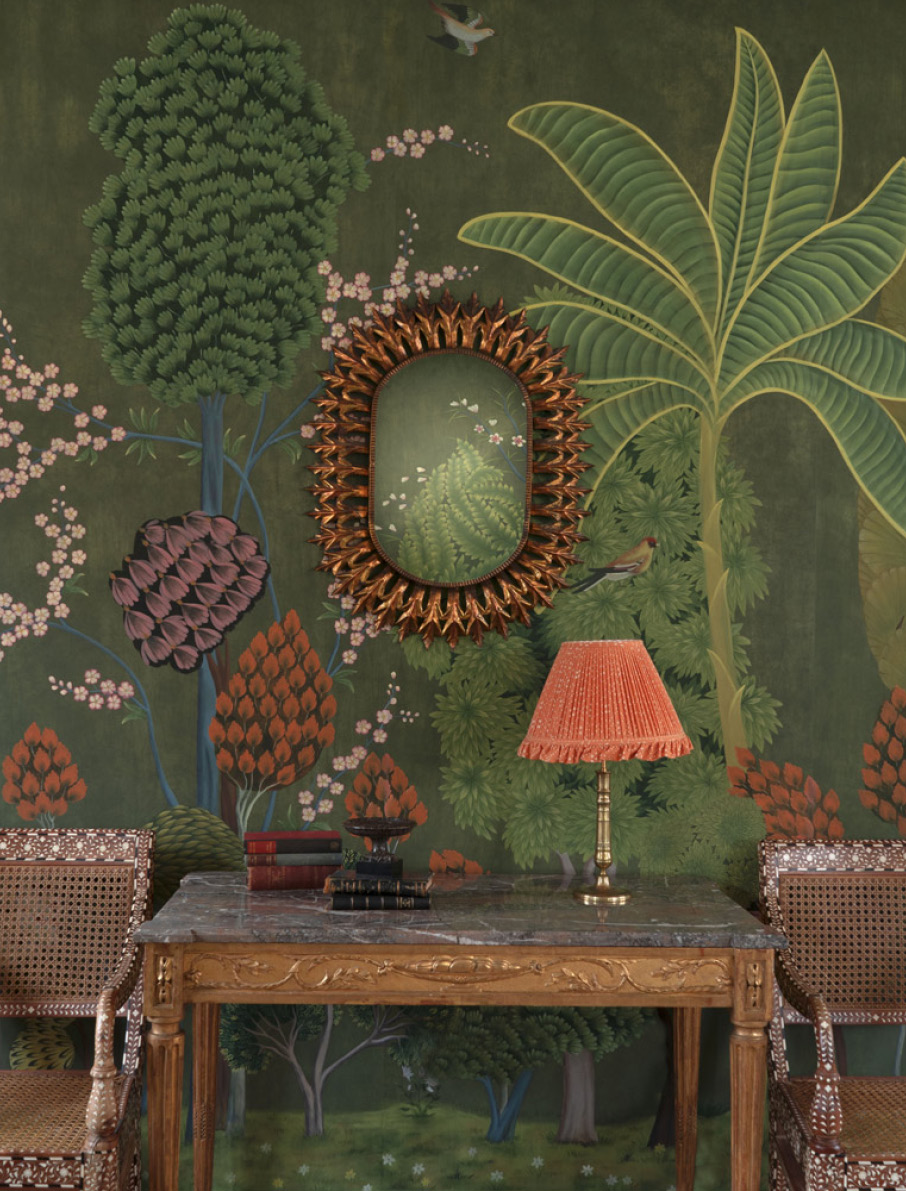 This charming design depicting verdant palms, Banyan, blossom and cypress trees is inspired by miniature paintings from Malwa, a region in central India where painting flourished during Muhgal times. The painting style of the region is characterised by a flat painting style and bold hues.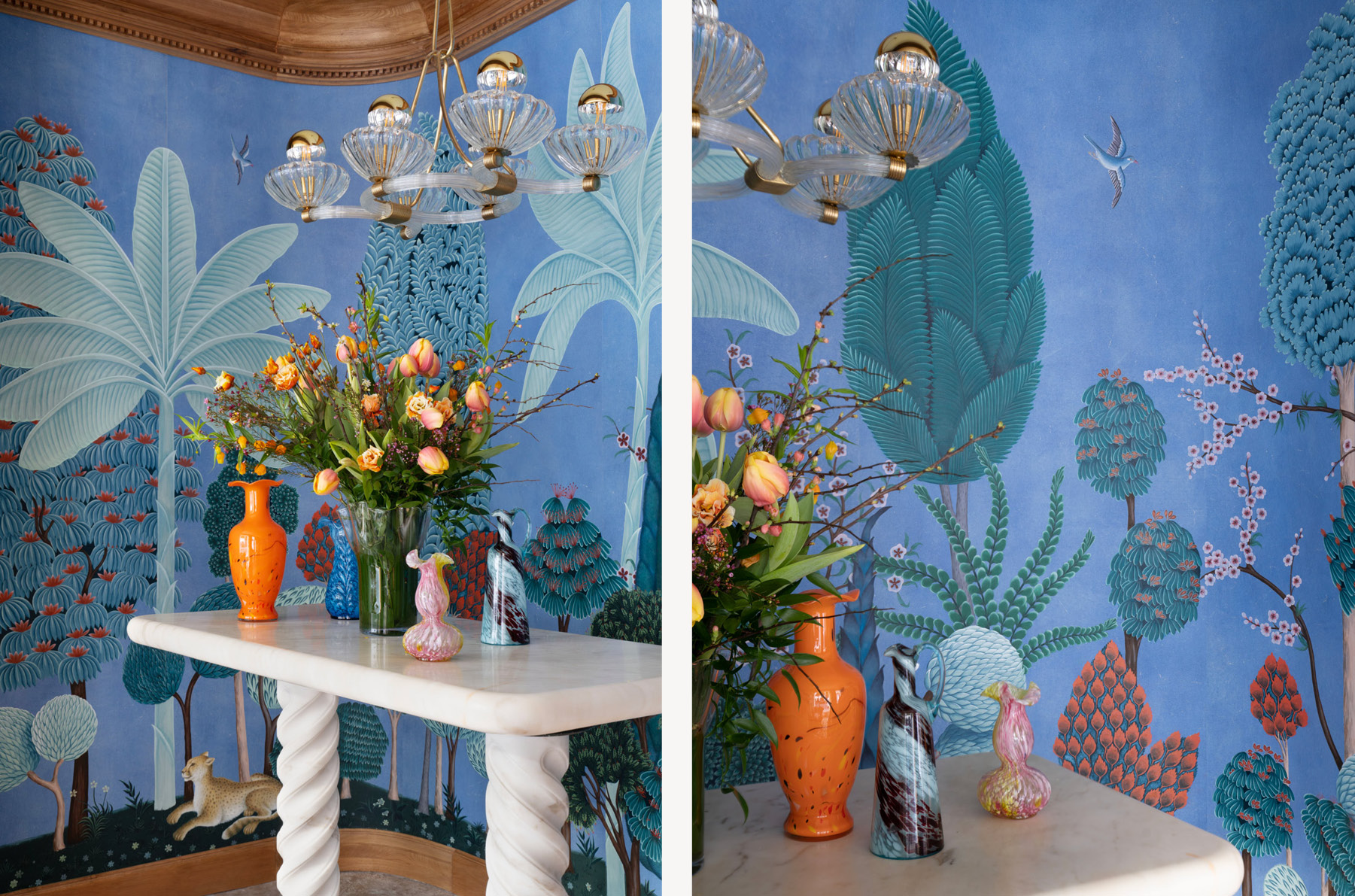 The Mughals continued to have a strong relationship and an exchange of ideas with the Safavids in Persia and the Ming Dynasty in China and all the other empires in Central Asia. The exchange of ideas and artistic influences along what we now know as the Silk Road, that has been described so well by Marco Polo, and that encapsulates such romantic names as Tamerlane, Karakorum, Xanadu, Samarkand and the Golden Horde, has led to the wonderful Mughal paintings which are the basis of this Collection.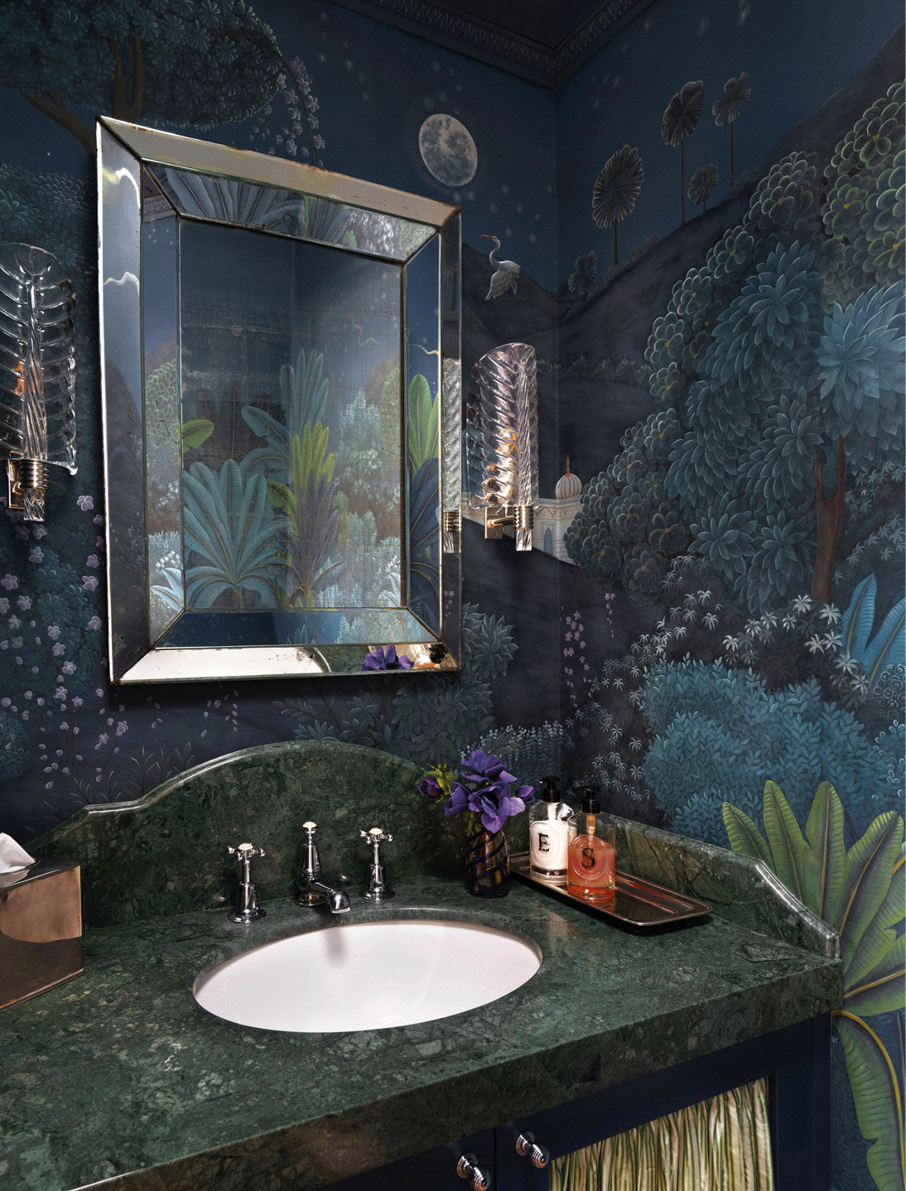 A moonlit forest is the setting for 'Phuljhari', a pictorial depiction of countryside at night, with a flowing river trailing through dense trees. Named for the sparklers lit during Diwali, the Hindu festival of Light, the sky is likewise illuminated with fireworks cascading in the dark.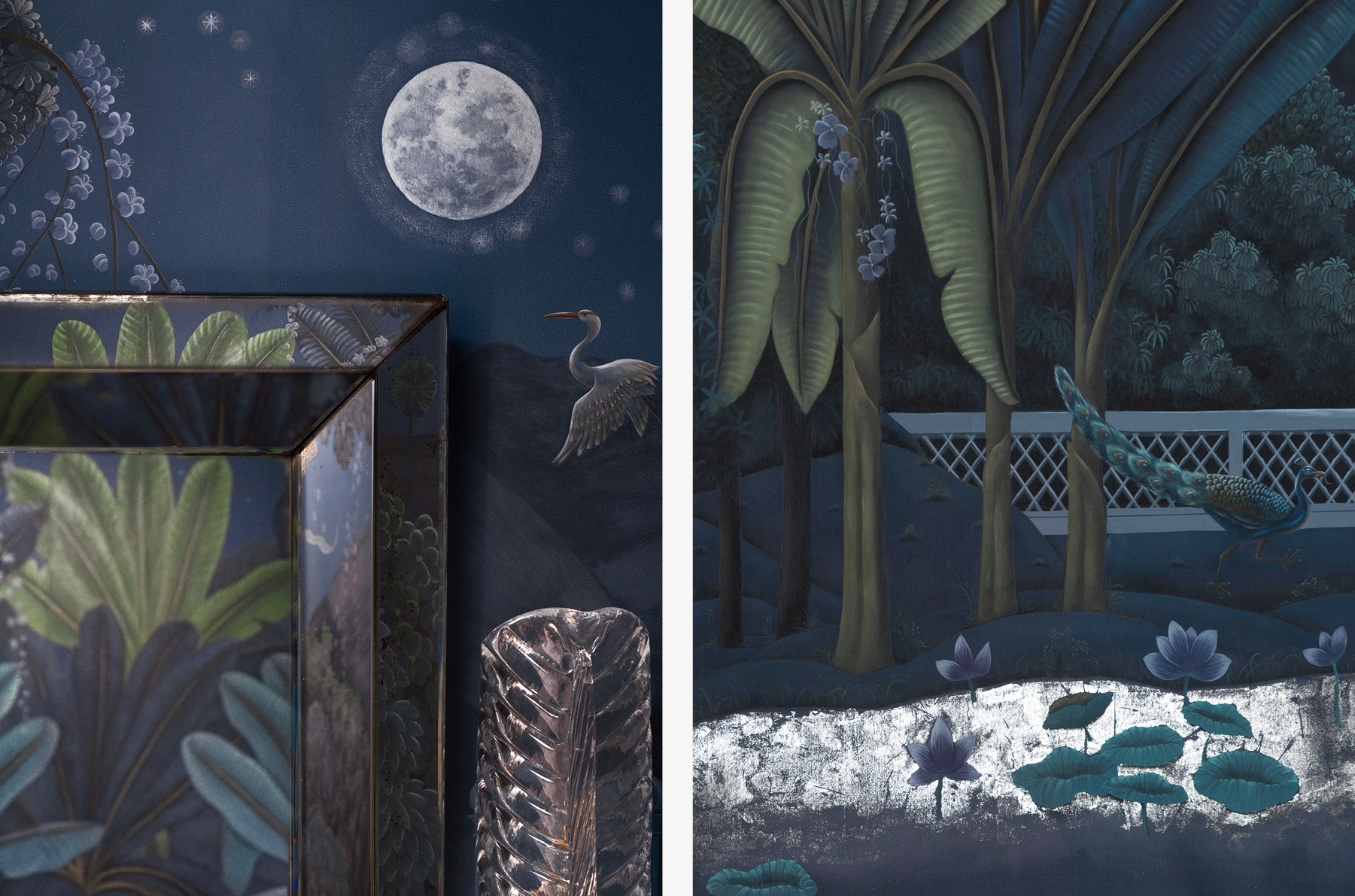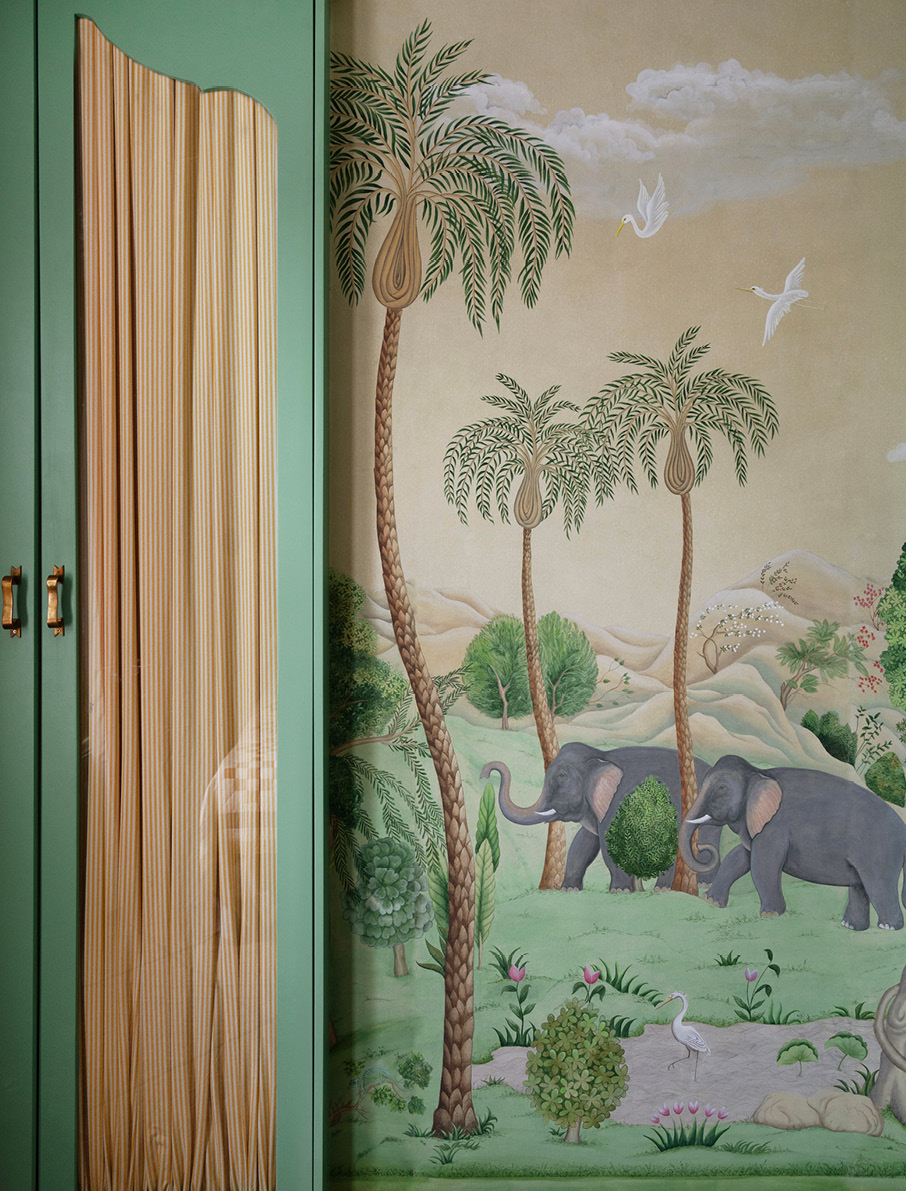 A lively rendition of a dense and teeming forest of flowering plants, thickets of trees and trailing vines, referencing Mughal artworks of the 18th century, 'Dandaka Glades' is named for a fabled Kingdom from Hindu mythology and one of the largest ancient forests of the Indian subcontinent - said to be the dwelling of the demon Dandak.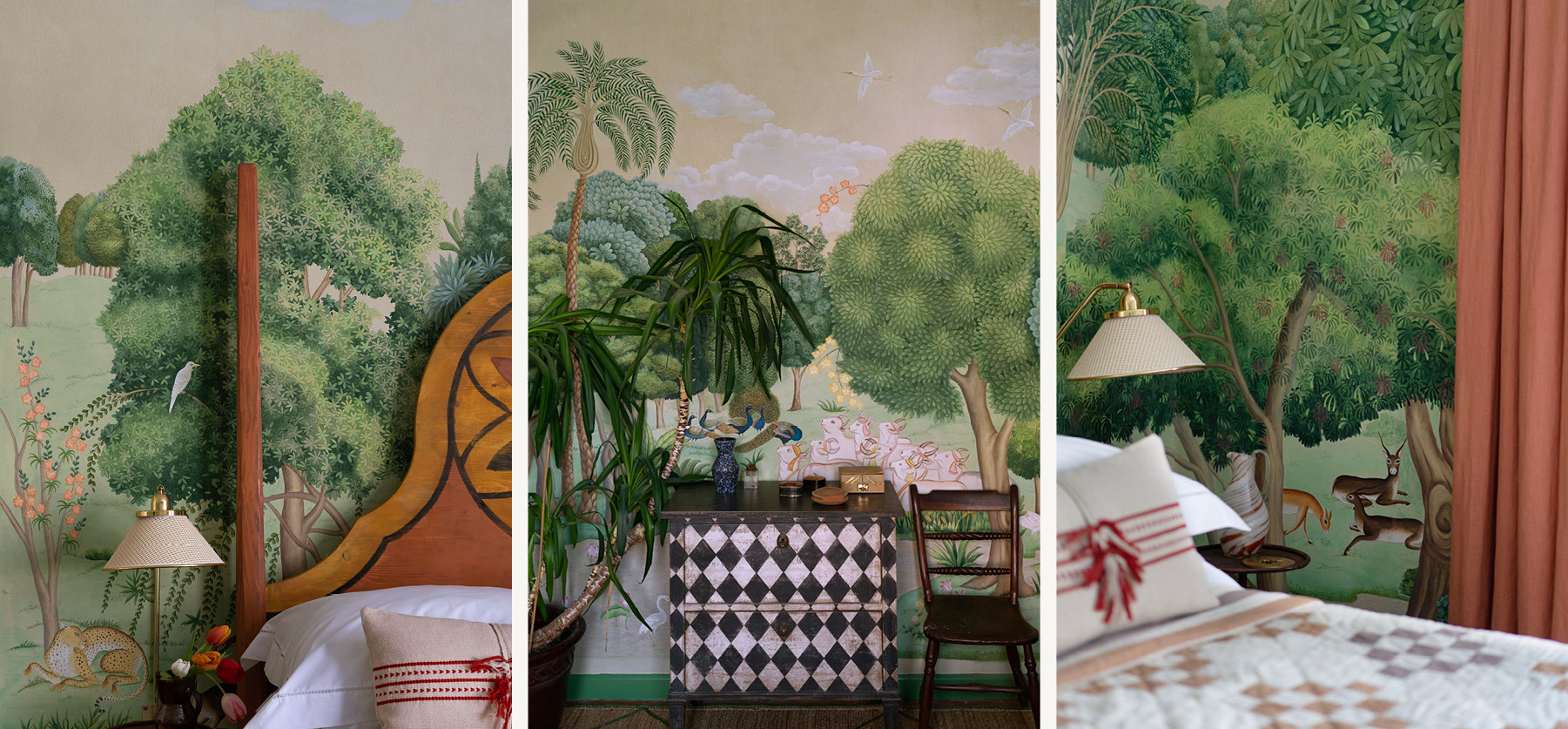 Named for a prevalent feature of classical India architecture - the stone windows protruding from upper stories of building faces - 'Jharokha Arches' is a repeating motif of ornamental window arches, within each of which beautiful plants and flowers are framed. A hand painted balustrade also spans the width of the composition, with decorative elements mirroring the pretty architectural framework above.