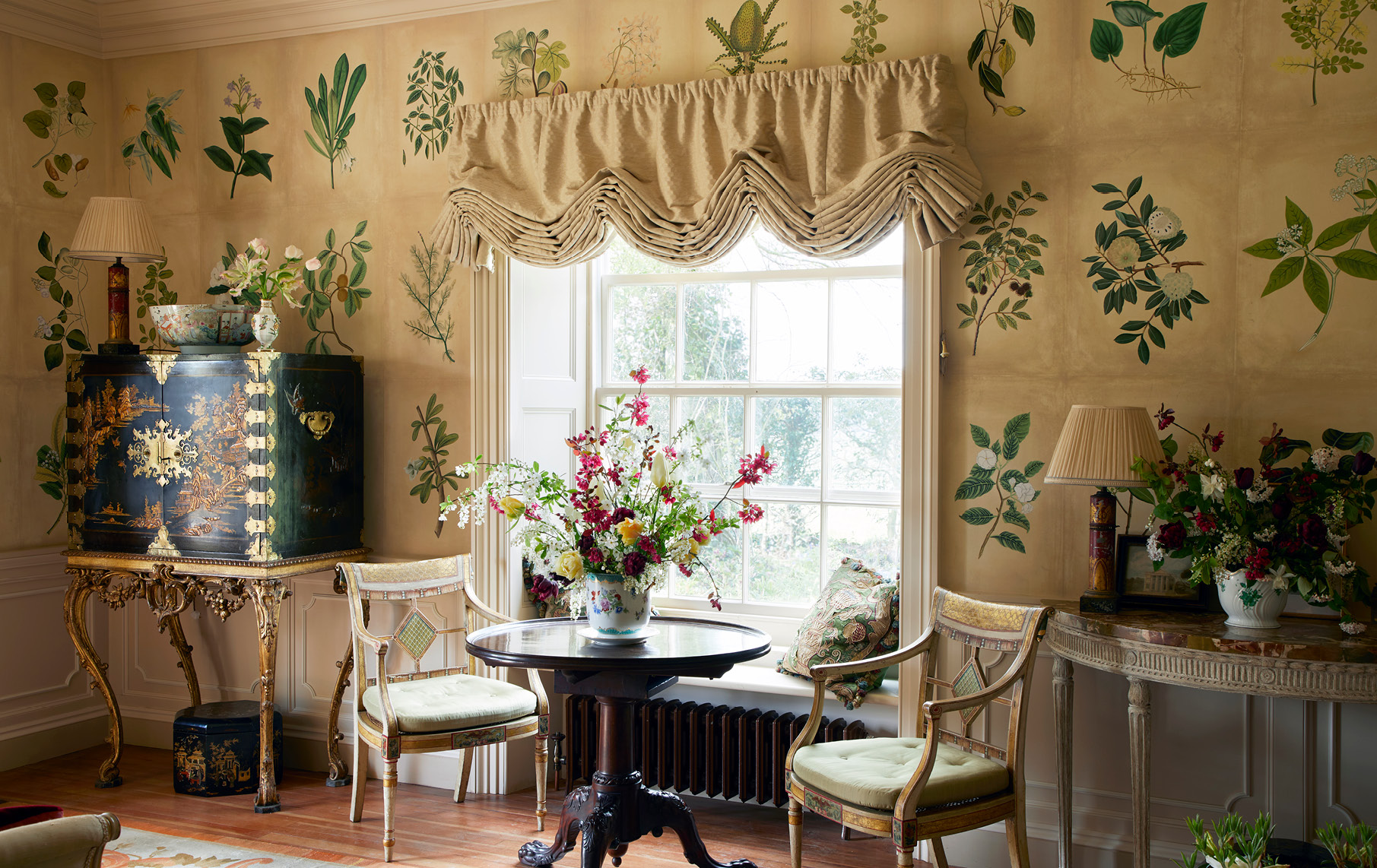 A leading figure in interior design for over two decades, Michael S. Smith has earned a reputation as a master of transitional design – merging the classicism of old Europe with the America's ever evolving modernism. A longstanding client of de Gournay's hand painted wallpapers, with an innate understanding of the varied medium, a new series of designs of his own creation celebrates themes and patterns of the natural world in an engaging range of decorative styles. To illustrate the diverse nature of the designs, de Gournay invited a select but disparate group of aesthetes, makers and dealers to each interpret one of the designs. Individuals from across the creative industries bringing the wallpapers to life in the context of their distinct endeavours, and with the addition of their own varied works and collections – showcasing the wallpapers and their unique oeuvres – as captured by renowned photographer Miguel Flores Vianna.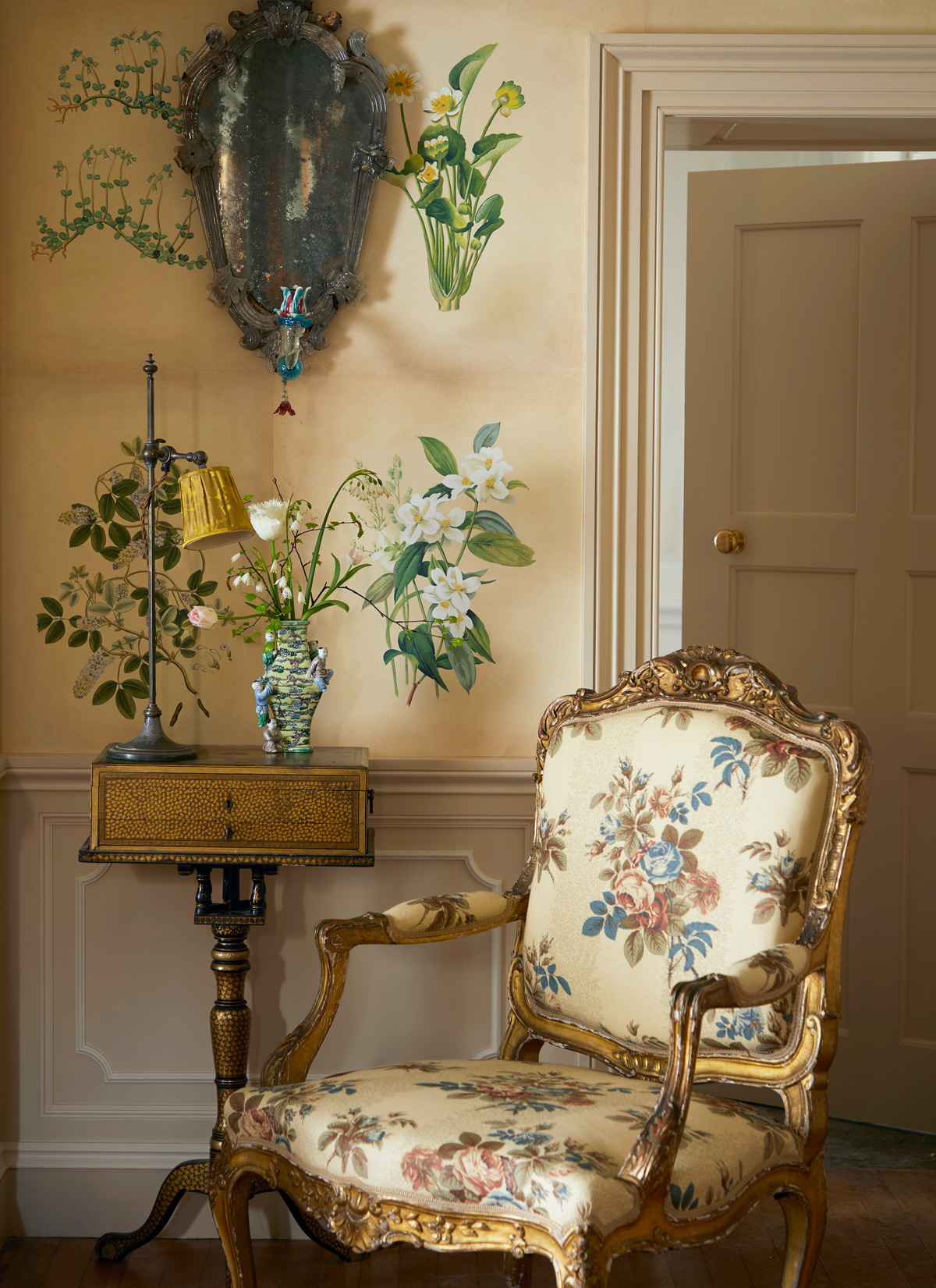 Botanical Studies
CURATED BY EDWARD HURST
Composed of large scale botanical illustrations, hand painted onto individual segments of India Tea Paper, 'Botanical Studies' references the 17th Century home of Swedish botanist Carl Linnaeus, who papered walls of his home with studies by the artist Georg Dionyius Ehret.
Composed of large scale botanical illustrations, hand painted onto individual segments of India Tea Paper, 'Botanical Studies' references the 17th Century home of Swedish botanist Carl Linnaeus, who papered walls of his home with studies by the artist Georg Dionyius Ehret. Striking renditions of Passiflora (Passion Flowers), Chestnut, Heliotrope, Bauhinia (Orchid Tree), Grapevine, Gardenias, Sesbania Grandiflora (Hummingbird Tree) and Indian Pellet Shrub (Pavetta Indica) evoke simultaneously the quiet beauty of Botany's golden age.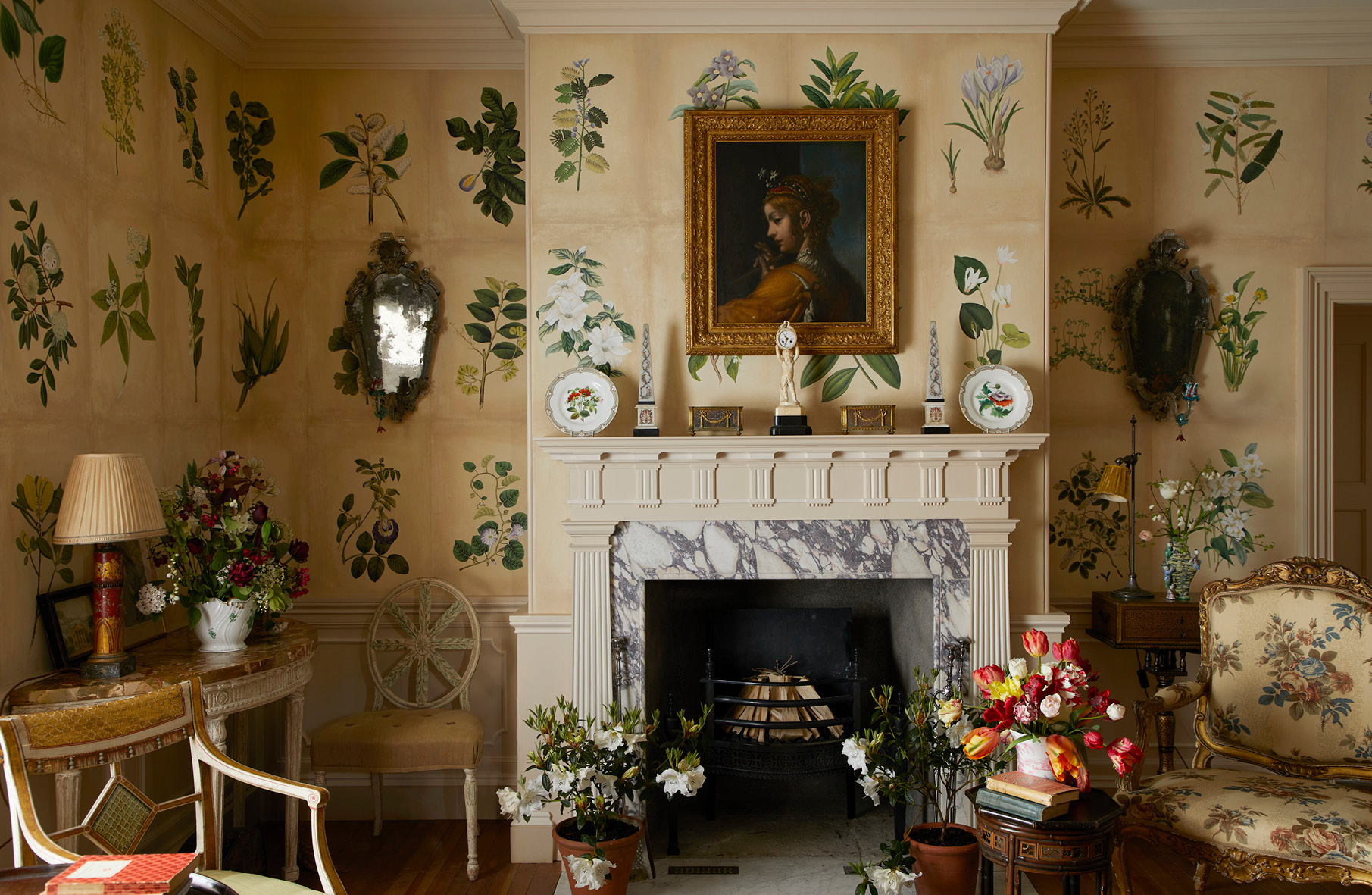 Installed within the bedroom of a private house in Dorset, an antique four poster bed from Sweden, with a canopy richly embroidered by Queen Charlotte herself, anchors the scene alongside antiques from Edwards wider collection and own home – Venetian mirrored sconces, a splendid Chinese cabinet atop intricately carved wooden legs and decorative porcelain sourced from private clients.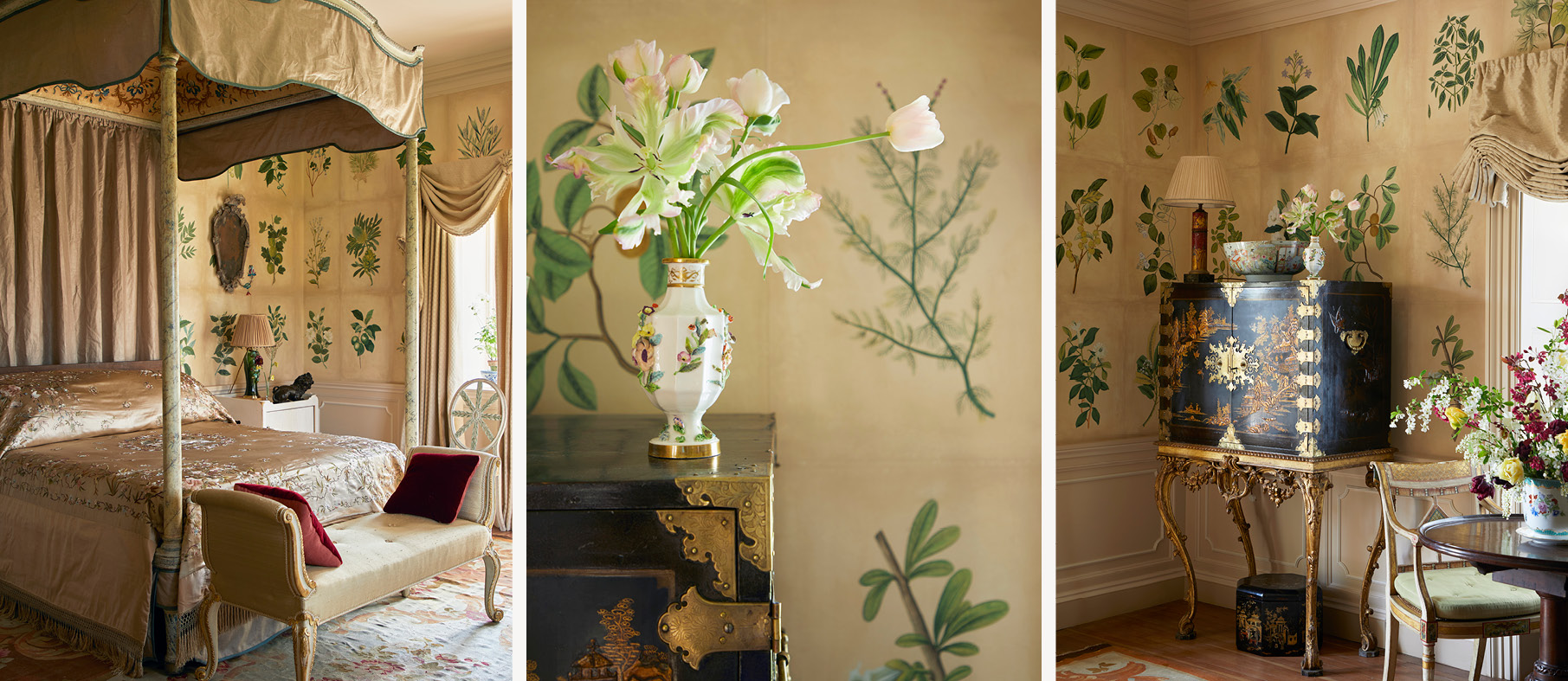 EDWARD HURST
A pre-eminent antiques dealer with an instinctive flair for finding unusual and beautiful pieces. Operating predominantly by word of mouth, Hurst has been dealing in Antiques for 35 years – specialising in 18th Century furniture and art. Fascinated by the passage of time and the history of each object, he seeks out antiques with heart and soul.
'There are four important things I look for before buying a piece: originality, condition, romance and crucially, good design.'
Painted by hand onto a gilded background with an ombré finish, rising from a rich Copper to a gleaming Silver, the blooming White florals appear suspended as though in mid-air.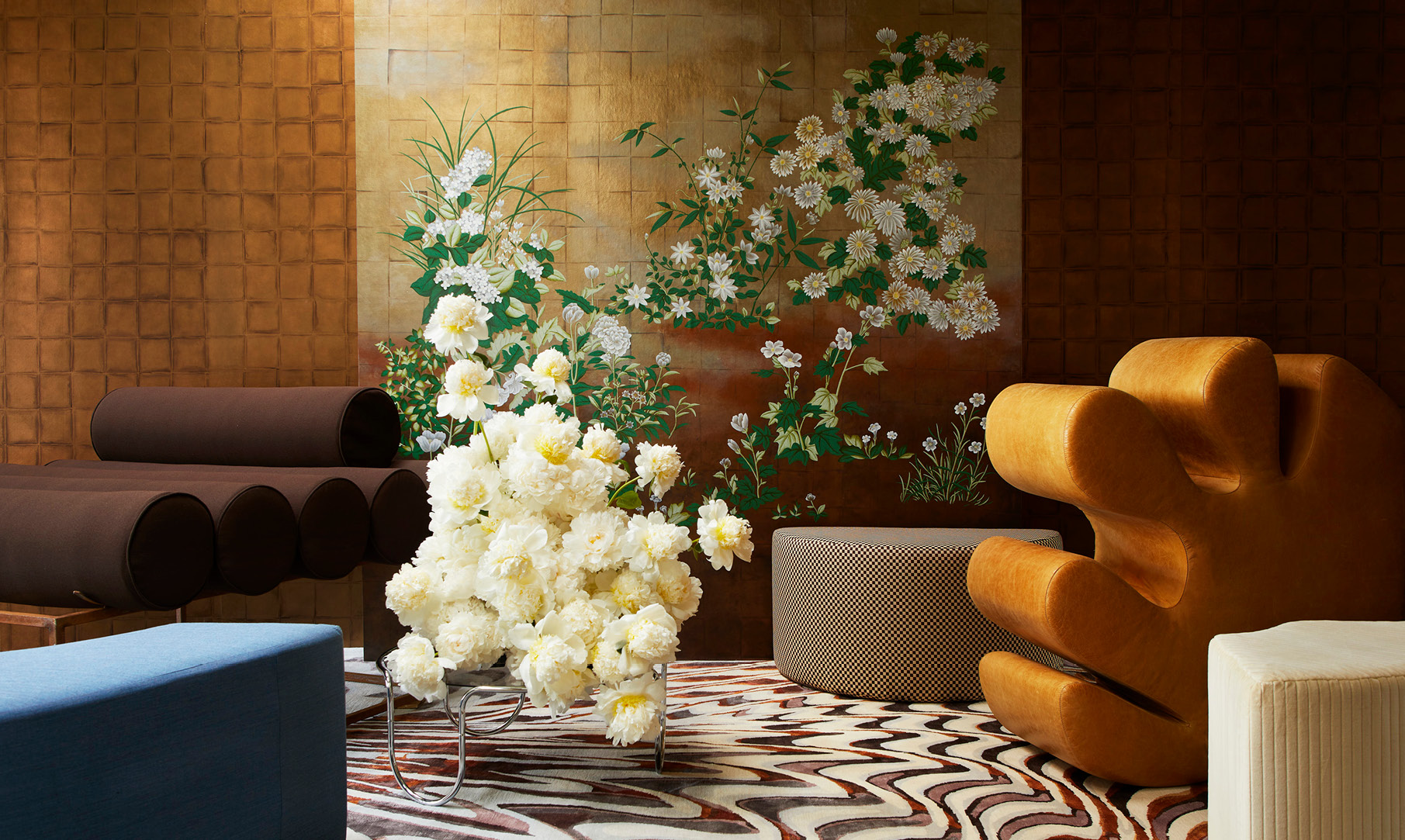 As a backdrop to furniture by Kusheda Mensah, a balance is struck between the rounded shapes that typify her work – oversized models with the semblance of organic forms – and the abstract nature of the floating flowers, mirrored in the setting by a freestanding floral arrangement by Simone Gooch of Fjura and all atop the waving patterned lines of a hand knotted rug by The Rug Company inspired by molten glass.
KUSHEDA MENSAH
A British born Ghanaian designer who explores fun yet functional living environments, promoting human connection in an increasingly isolated world. Her range of modular furniture encourages a more fulfilling social experience – adaptable, interlocking forms realised in a bold aesthetic help to reimagine how communal spaces can be used. Her Mutual furniture collection debuted at Milan's Salone de Mobile in 2018.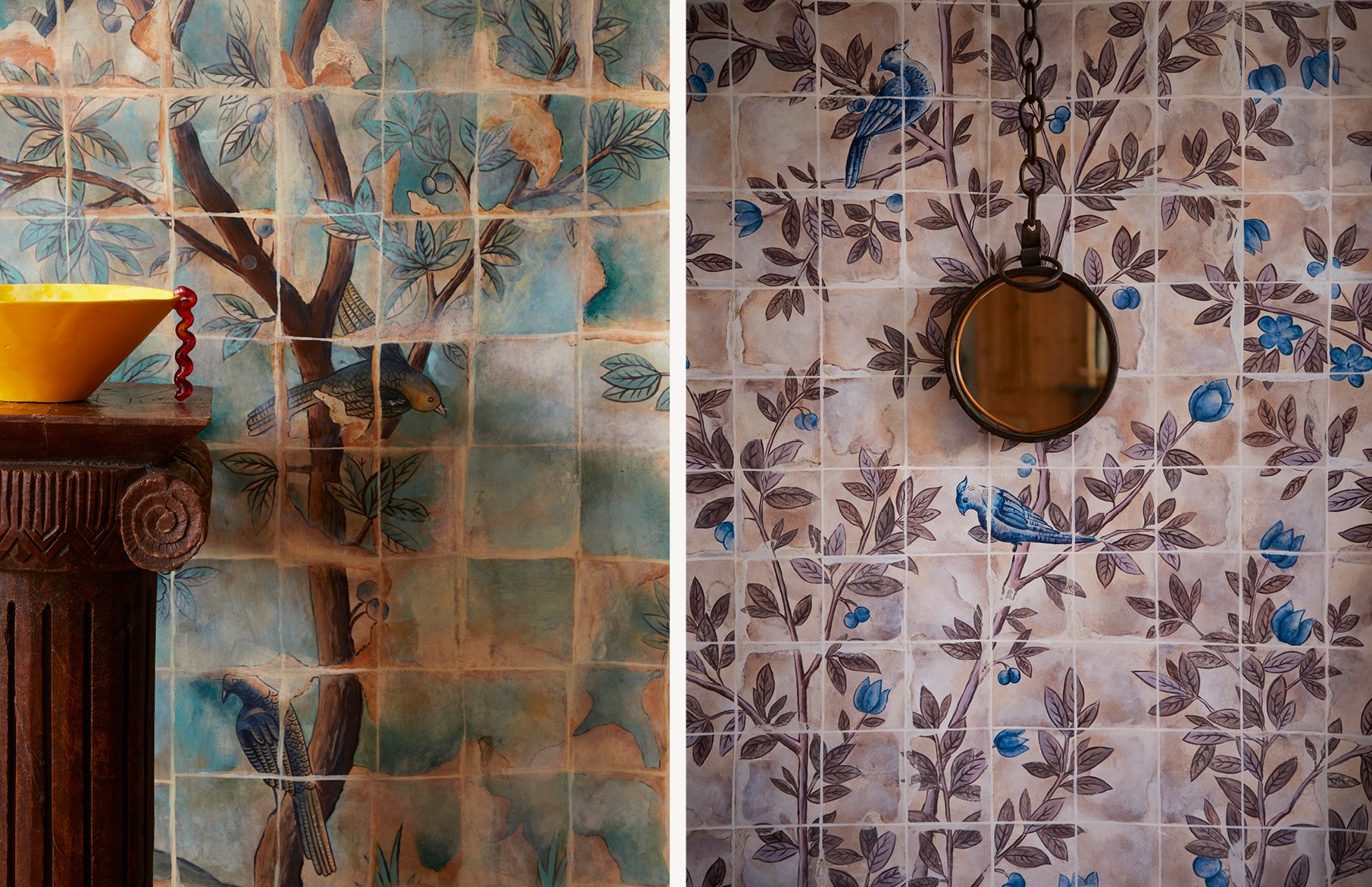 Within his sprawling London showroom, amidst an eclectic mix of vintage design and pieces of his own creation, Jermaine Gallacher's avant-garde interpretation stages the design off the wall. Panels are suspended in a series of imaginatively styled set pieces, populated with 'Zigzag' candlesticks, consoles and side tables from his own 'Prototype' collection, vessels in glass and clay by artist Miranda Keyes and sculptural works by Viola Lanari.
JERMAINE GALLACHER
A young British design dealer championing local talents and his own intrepid vision from an old cork factory hidden within South London – a space acting as both a gallery showroom for his works as well as an occasional bar.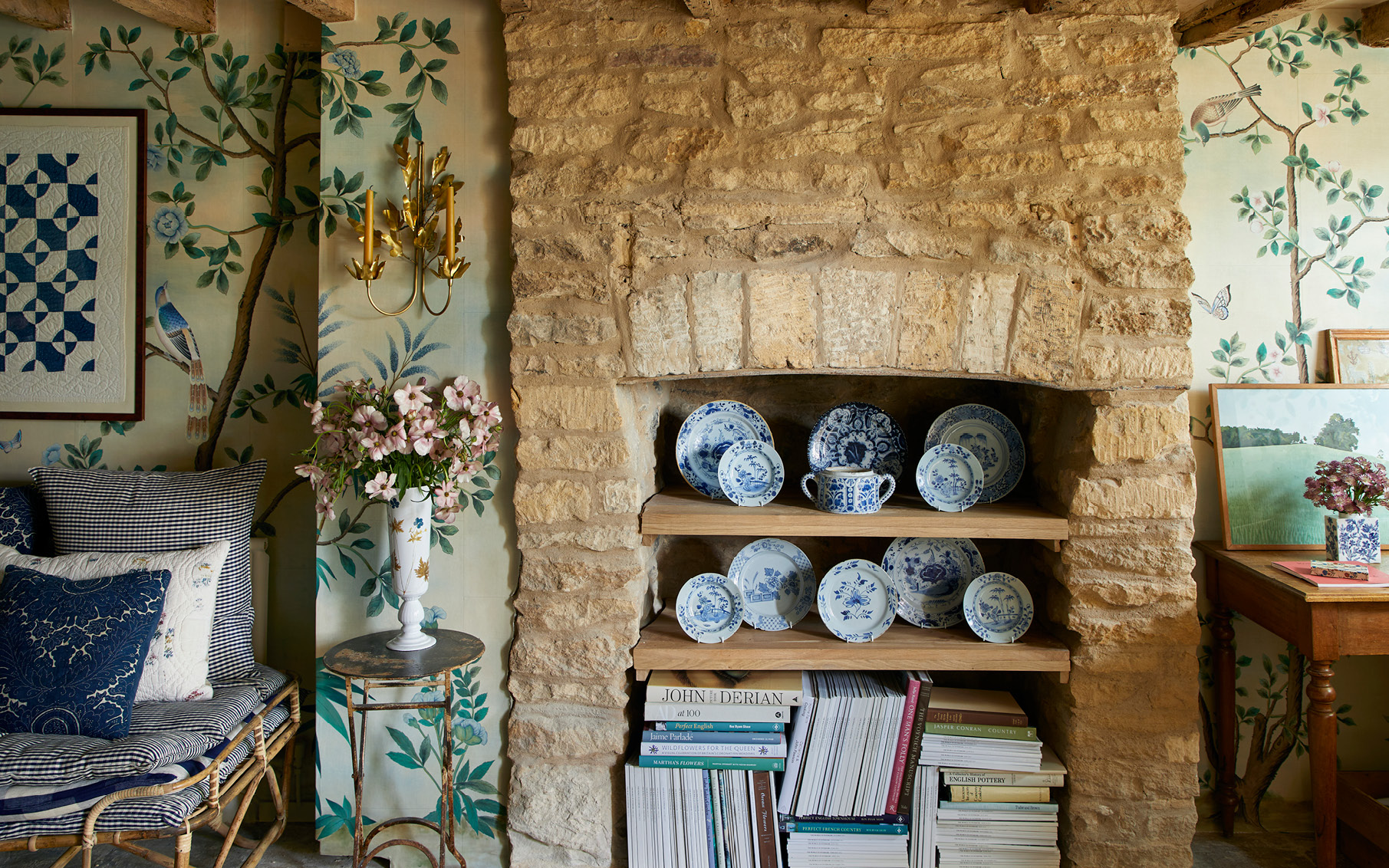 Transposed to Stow on the Wold, the heart of the English countryside, its fresh charm finds a natural home within a satellite premises of the Cutter Brooks emporium, filled with the elevated homeware stocked by Brooks: oak leaf candle sconces crafted in burnished brass by Jess Wheeler, hand sculpted porcelain flowers by Vladimir Kanevsky and Tensira textiles, alongside artwork by Brook's husband Christopher and her own Delftware.
'Nordic Garden' is hand painted in evergreen colours onto a softly-mottled cream-coloured India tea paper (a handmade rice paper that is jointed in a pattern of overlapped blocks) with wonderful spontaneously-applied washes of translucent sky blue pigment that streak through the background.
AMANDA BROOKS
A Native New Yorker ensconced in the English Countryside, the home of her British born husband. Proprietor of the eponymous 'Cutter Brooks' shop, her aesthetic interpretation of classic English style where fashion intersects interiors.
Installed within the apartment of Ting-Ying founder Peter and his partner, curator Brian Kennedy, the Marble backdrop elevates their personal collection of artworks and porcelain – with works by ceramic artists such as Carol McNicoll, Alice Walton, Chang Chingyuan and Emma Witter filling the scene.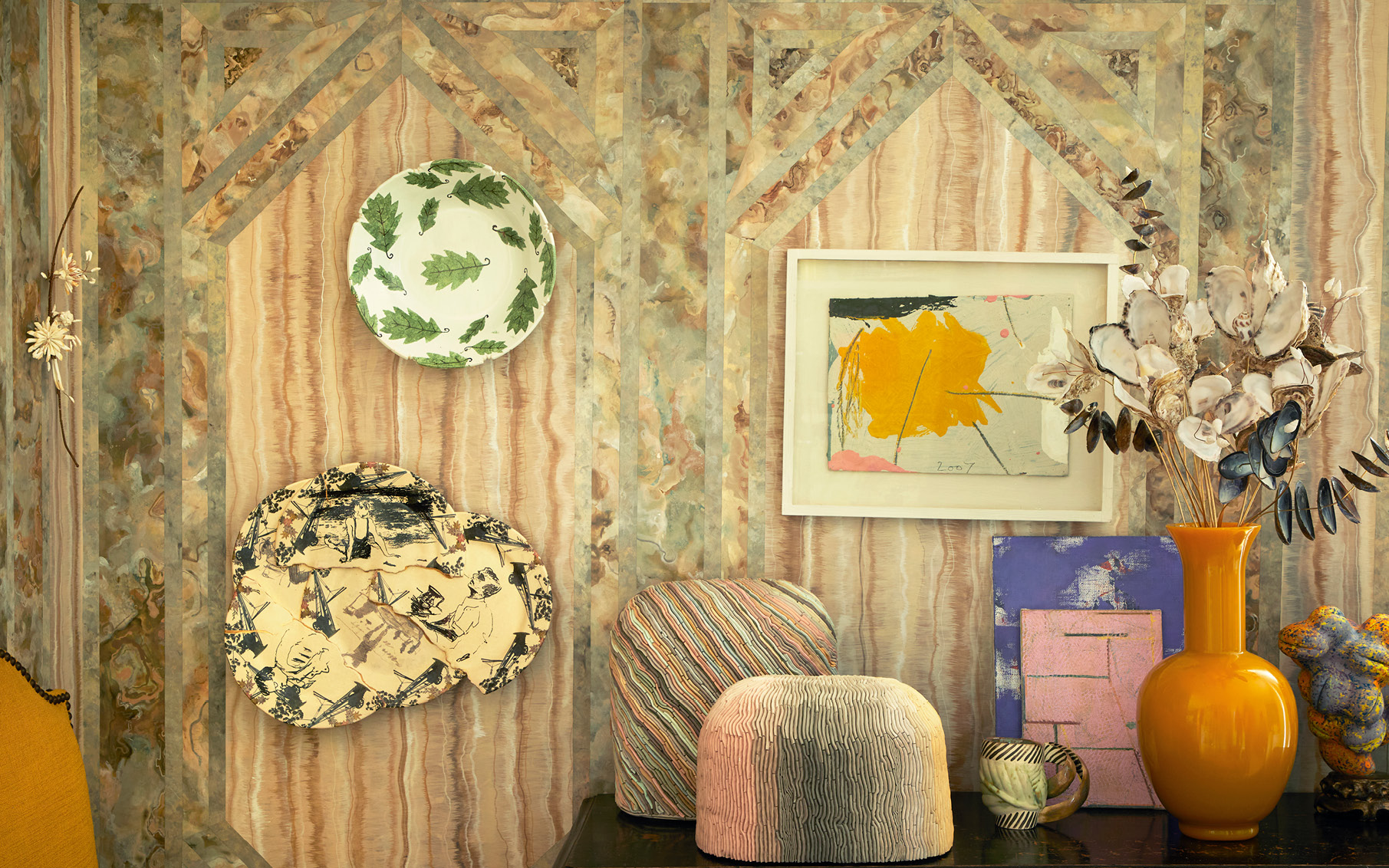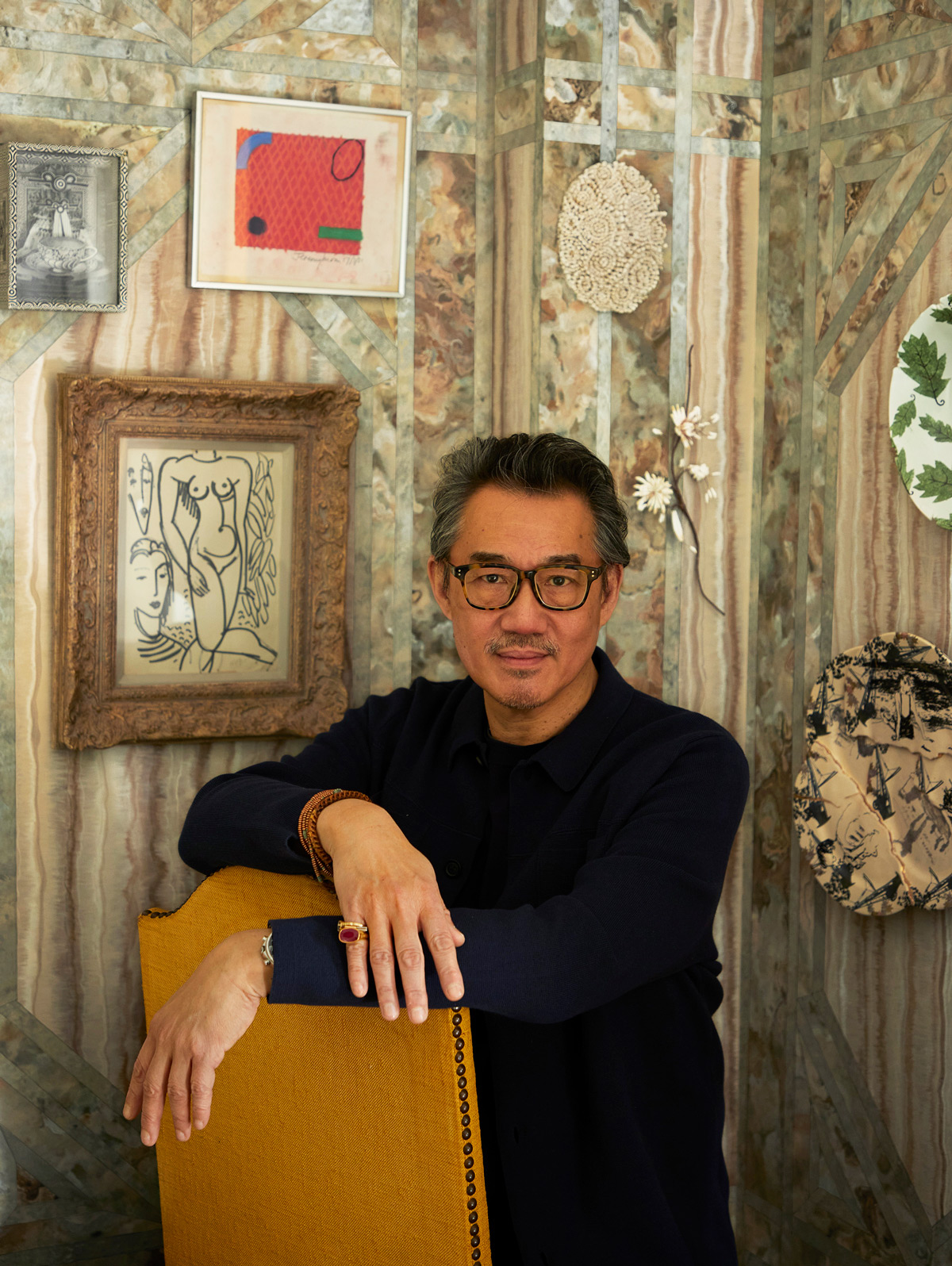 TING YING GALLERY
Founded in 2016 by ceramic and product designer Peter Ting and Ying Jian, a Chinese national specialising in traditional Blanc de Chine porcelain, Ting-Ying gallery is an established voice in the sphere of contemporary craft, championing new and current artists worldwide and especially from the Chinese diaspora. Stimulating creative dialogues between East and West, the gallery promotes the resulting merger of historic materials with innovative and modern techniques – artworks that celebrate the beauty and precision of craftsmanship in the 21st century.